Click on a red flag to find a trip | See all trips | Travel facts | Back to Africa

North Africa: The Bucket List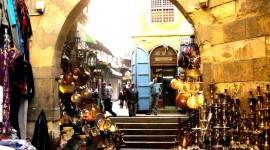 I am beginning to feel uncomfortable. My self-appointed guide -- he introduced himself only as Mohammed, which is not helpful in a country where Mohammed is the name of most of the male population -- keeps urging me just a little way further. Another turn, a narrower alley, fewer people, dimmer ...
Read More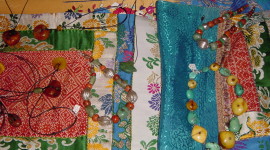 The front door is massive and studded with nails meant to repel assailants instead of welcoming visitors. It opens on what are now the treasured artifacts of such old times: colorful textiles, bright wood trunks, attractive vintage clothing, gleaming ceramics, shimmering glass lanterns, and cheerful carpets, all competing for my ...
Read More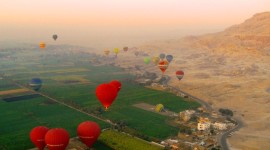 We are standing in the cool morning air of a pre-dawn Sahara. We can just make out the colored patterns on enormous balloons that lie deflated on the ground. Men scurry about, lighting  fuel tanks that first roar into life, then send bright orange flames into the mouths of the ...
Read More
North Africa Facts

While Morocco and Egypt both contain some of the world's iconic tourist attractions, much of the region is unstable politically or attracts few tourists. We will add information about countries as we develop content.
Main International Airports: Cairo is the main long-haul destination in Egypt. Also: Alexandria. Morocco)
Currency: Currency in Egypt:
Population: Egypt:  Morocco:
Capitals: Cairo, Egypt.
Climate: Look at the map: It's brown! Largely Sahara desert. In winter, temperatures can be chilly, particularly at higher elevations in the Atlas Mountains.
Major Languages: Arabic. English is spoken in heavily touristed areas.  French is also widely spoken in parts of North Africa.
More Facts: Egypt: A visa can be purchased at points of entry. Note that having your passport stamped at the Israel-Egypt land border in Sinai may mean that you cannot enter some Arab countries because this particular Egyptian stamp proves you were in Israel. Morocco: Americans should check with the U.S. Department of State for up-to-date recommendations and travel warnings.
Medical Information: See the World Health organization interactive map for recommendations for medical issues, and talk with your doctor about updatig standard vaccinations. Drink only boiled or bottled water, and avoid uncooked fruits and vegetables in rural areas.
Time Zone: Standard times  = UTC + 5. See World Clock for seasonal adjustments.
Southern Africa Facts
Note: Information that follows is for countries we cover (or will soon cover) only; More will be added as we develop content.

Main International Airports: Johannesburg is the major hub for southern African air traffic. Also: Capetown (South Africa), Winhoek (Namibia), Lusaka (Zambia)
Currency: South Africa: Rand. Namibia: (Namibian) Dollar. Zambia: Kwacha.
Population: South Africa: frica: Rand. Namibia: (Namibian) Dollar. Zambia:  Kwacha.
<strong>Population:</strong> South Africa: