Click on a red flag to find a trip | See all trips | Travel facts | Back to Asia

India: The Bucket List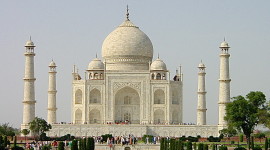 The grand finale of my trip to India is neither a massive fort nor a sumptuous palace,  it's a mausoleum: the Taj Mahal. For some of the Indian celebrities interviewed on the occasion of its 350th anniversary (in 2004) the love story was the essence; for others it was the harmonious architecture; ...
Read More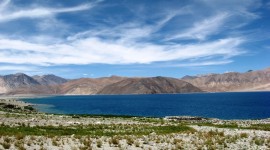 I'm feeling quite intrepid. I am sitting on the back of my boyfriend's Royal Enfield motorbike and we have just crossed the third highest motorable mountain pass in the world, Chang La in India's Ladakh. We are heading towards Pangong Tso, a salt water lake in east Ladakh at around ...
Read More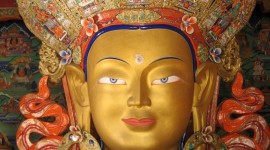 In the corner of a small, dark room, a monk in red robes sits huddled over a book. In candlelight he shows me pages of neat text in long rows, and explains the writing is Tibetan. The book, like the hundreds of others crammed on the shelves on the wall, ...
Read More
It's still dark when we walk downhill to the train station. Although the train will only leave at seven, we have been advised to arrive an hour early, as there are few seats. The Sikkim narrow gauge diesel train runs all the way up from the town of New Jalpaiguri on ...
Read More
India Facts
Main International Airports: New Dehli, India is the hub for international travel to this region of Asia. Other major international airports in India are Kolkata, Mumbai, Chennai, Hyderabad, and Bangalore.
Currency: Indian rupee.
Population: 1.2 billion.
Capital: New Dehli.
Climate: Ranges from tropical in the southern parts of India to deserts in Rajasthan to alpine in the Himalayas.
Major Languages: Hundreds of languages are spoken in South Asia, but English is a lingua franca for tourists and business throughout the region. It is one of India's two official languages (the other is Standard Hindi).
More Facts: India requires a visa in advance of travel.
Medical Information: Malaria prophylaxis is recommended in low-lying tropical areas: See the World Health organization interactive map for recommendations for malaria and other medical issues.
Time Zone: UTC + 5 1/2. See World Clock for seasonal adjustments.