Click on a red flag to find a trip | See all trips | Travel facts | Back to Asia

South Asia: The Bucket List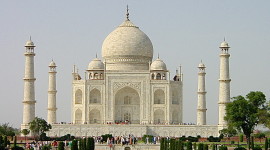 The grand finale of my trip to India is neither a massive fort nor a sumptuous palace,  it's a mausoleum: the Taj Mahal. For some of the Indian celebrities interviewed on the occasion of its 350th anniversary (in 2004) the love story was the essence; for others it was the harmonious architecture; ...
Read More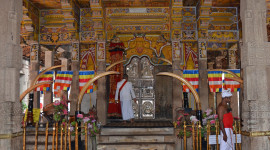 Tammattam drums throb in the distance. The steady boom, boom, boom of these small-sized, kettle-like drums grow louder. Their rhythm is almost hypnotic. Then comes the sound of cracking whips. A troupe snaps them to the drum beats. For the next four hours, I am dazzled by what passes before me ...
Read More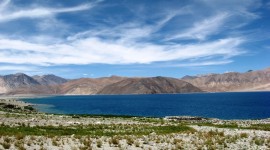 I'm feeling quite intrepid. I am sitting on the back of my boyfriend's Royal Enfield motorbike and we have just crossed the third highest motorable mountain pass in the world, Chang La in India's Ladakh. We are heading towards Pangong Tso, a salt water lake in east Ladakh at around ...
Read More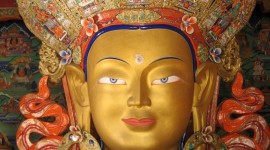 In the corner of a small, dark room, a monk in red robes sits huddled over a book. In candlelight he shows me pages of neat text in long rows, and explains the writing is Tibetan. The book, like the hundreds of others crammed on the shelves on the wall, ...
Read More
South Asia Facts

See India for facts on India.

Main International Airports: New Dehli, India is the hub for international travel not only to India, but also neighboring countries. Also: Karachi (Pakistan), Kathmandu (Nepal), Colombo (Sri Lanka), Male (Maldives), Dhaka (Bangladesh), Yangon (Myanmar). Kabul (Afghanistan).
Currency: Pakistani rupee. Nepali rupee. Bhutan ngultrum. Bangladesh taka. Myanmar kyat. Sri Lanka rupee. Maldives rufiyaa. (Note: the rupees used in the region differ from country to country.) Afghani afghani.
Population: Pakistan: 180,000,000. Nepal 31,000,000. Bhutan: 750,000. Bangladesh: 152,000,000. Myanmar: 48,800,000. Sri Lanka: 21,000,000. Maldives: 324,000. Afghanistan: 35,000,000.
Capitals: Islamabad, Pakistan. Kathmandu Nepal. Thimphu, Bhutan. Dhaka, Bangladesh. Naypyidaw, Myanmar. Sri Jayawardenapura-Kotte, Sri Lanka. Malé, Maldives. Kabul, Afghanistan.
Climate: Ranges from tropical in Sri Lanka and Myanmar to alpine in the Himalayas and Karakorum mountains.
Major Languages: Hundreds of languages are spoken in South Asia, but English is a lingua franca for tourists and business throughout the region. It is one of Pakistan's two official languages (the other is Urdu). Nepali is the official language of Nepal; Bengali is the official language of Bengladesh. Pashto and Dari are the official languages of Afghanistan.
More Facts: Most South Asian countries require visas: Pakistan: Visa required. Nepal: Visa required. Bhutan: Very restricted. Visa required. Sri Lanka: Online visas required. Bangladesh: Visa required, available online. Maldives: Free, issued on arrival. Afghanistan: Visas required.
Medical Information: Malaria prophylaxis is recommended in lowlying tropical areas: See the World Health organization interactive map for recommendations for malaria and other medical issues.
Time Zone: Standard times: Pakistan, Maldives, Afghanistan = UTC + 5. Sri Lanka = UTC + 5 1/2. Nepal = UTC + 5 3/4. Bangladesh, Bhutan = UTC + 6. Myanmar = UTC + 6 1/2. See World Clock for seasonal adjustments.