Click on a red flag to find a trip | See all trips | Travel facts | Back to Asia

Southeast Asia: The Bucket List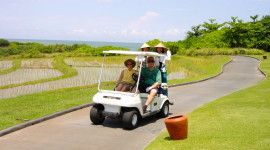 She briefly scouts the fairway and points to my ball, in a narrow ditch along a rice paddy. All eyes are on me as I give it my best shot. When a splash of mud squirts in all directions including mine, I am miffed. Yet, my caddy smiles and my ...
Read More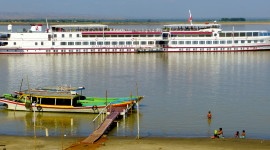 Rudyard Kipling wrote the words. Frank Sinatra sang them: "On the road to Mandalay Where the flying fishes play An' the dawn comes up like thunder Out of China 'cross the bay." And I for five days lived them. The Ayeyerwady is the Road to Mandalay In 1852, Britain annexed the country they called Burma and readily ...
Read More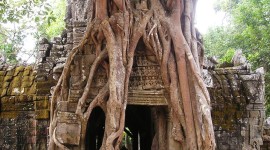 I'm covered in sweat. Sweat is pouring down my back under my t-shirt, and my hair is soaked. I don't mind the sweat, because I'm looking at my favorite temple in the Angkor Archaeological Park so far: Ta Phrom. Unfortunately there are about a million other people looking at it ...
Read More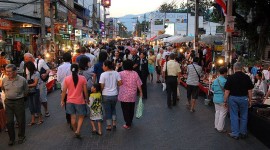 Paper umbrellas, lanterns, cotton scarves, silk pillow covers, table mats, handbags, slippers, Thai spices, herbal remedies, handmade soaps, natural cosmetics, jewelry, Buddha statues, elephant statues, toys, silk ties, clothes, incense holders and incense sticks... I can't think of many things that are not sold at the Sunday Market in Chiang ...
Read More
Southeast Asia Facts

Main International Airports: Bangkok, Thailand; Singapore; Kuala Lumpur, Malaysia; Jakarta, Indonesia; Manila, Philippines. Connections available through Hong Kong.
Currency: Myanmar kyat. Thai bhat. Vietnamese dong. Cambodian riel. Laotian kip. Malaysian ringgit Indonesian rupiah. East Timor uses U.S. dollars. Brunei uses Singapore dollars. Singapore dollars Philippino peso. U.S. dollars are widely accepted in Cambodia and Laos. Euros are also accepted at larger establishments in some major cities. Thai baht are often accepted in Cambodia, Laos and Myanmar.
Population: Myanmar: 62,400,000. Thailand: 64,000,000. Vietnam : 89,000,000. Cambodia: 15,000,000. Laos: 6,500,000. Malaysia 29,000,000. Indonesia 241,000,000. East Timor 1,100,000. Brunei 426,000. Singapore 5,000,000. Philippines: 96,000,000.
Capitals: Naypyidaw, Myanmar, Bangkok, Thailand. Hanoi, Vietnam. Phnom Penh, Cambodia. Vientiane, Laos. Kuala Lumpur, Malaysia. Jakarta, Indonesia. Dili, East Timor. Bandar Seri Begawan, Brunei. Singapore, Singapore. Manila, Philippines.
Climate: "Hot or hotter." Mostly tropical. Subtropical in northern Vietnam. Wet season correponds with the northern hemisphere winter; the dry season begins in April or May.
Major Languages: More than a hundred languages are spoken in Southeast Asia, but English is a lingua franca for tourists and business throughout the region. French is sometimes spoken in Vietnam. Chinese and Mandarin are also widely spoken. Other major languages: Thai, Vietnamese, Malay, Khmer (Cambodia; also Thailand and Vietnam), Burmese, Indonesian, Portuguese (East Timor), Javanese (Indonesia), Lao, Filipino, Tagalog (Philippines), Tamil (Singapore).
More Facts: Malaysia, Philippines, Singapore, and Thailand do not require visas from visitors from most western counties. In Cambodia, Laos, Indonesia and East Timor, visas are available on arrival at most ports of entry. Vietnam and Myanmar require visas in advance.
Medical Information: Malaria is present throughout Southeast Asia, though the risk is low in most populated tourist areas in Thailand, Bali, Brunei, Singapore, most of Malaysia, and most of Vietnam. In some areas, malaria is resistant to some drugs, including mefloquine. High risk is present in some parts of Thailand along its borders with Cambodia, Laos, and Myanmar, as well as parts of Indonesia. Risks elsewhere vary: Check for updates and recommendations with a tropical disease specialist. More information at CDC/Malaria. 
Time Zone: Standard times: Most of Southeast Asia is UTC+7. Brunei, some of Indonesia, East Timor, and the Philippines are +8. Myanmar is +6 1/2. See World Clock.
* Info, links updated October, 2012.