Jamaica's Seven Mile beach should really be called the "Four-point-something-plus-two-point-something-Mile Beach." I know because I tried to walk it from my hotel down to the end, and got stuck at a headland that separates what are in fact two separate beaches. The longer beach runs along Long Bay, to the south. The shorter beach is on the north side (closest to Montego Bay) along Bloody  Bay. You can't get there from here.
In Your Bucket Because…

Seven-Mile Beach really is one of the world's justifiably famed beaches.
The sunsets are spectacular: Bring a camera.
Good for: Anyone who has ever said they like "long walks on a beach" in a personal ad.
I had just arrived at my hotel, smack in the middle of Long Bay, and decided to stave off travel fatigue with a walk. I figured it was a leisurely two-hours to the northern tip, from where I'd get a taxi to take me back in time to get ready for dinner.
But my plan was thwarted by the promontory that sticks out at Rutland Point, separating the two beaches and bays. It's covered with hotels, including the infamous Hedonism II, but it doesn't have public access via a continuous beach. I was forced to turn back.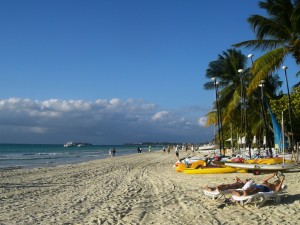 Which was fine by me. Surprisingly, for such a popular beach — top 10 lists worldwide, the site of many of Jamaica's most popular all-inclusives, photographed for magazine covers worldwide — the beach was pretty uncrowded in the late afternoon. You hear about the "vibe" of Negril — a stew of Rasta, ganga, laid-back ennui, reggae, hair-braiding, pushy souvenir sellers, romance, snorkeling, diving, and all the other flavors of beach fun, plus weddings here, there, and everywhere: barefoot brides, soaking wet brides, brides in bikinis, braided brides in hippie chic.
But it must have been a slow day, or maybe it was the time of day. In any event, the empty beach made for lovely, peaceful walking, interrupted only occasionally by a greeting from one of the hotel guards who keep an eye on who is coming and going, discourage local troublemakers, and keep the vending under a semblance of control.
Negril's All-Inclusive Resorts
Located in western Jamaica (about 1 ½ hours drive from from Montego Bay) Negril became the "Capital of Casual" when hippie tourists discovered it in the 1960s. Today it retains a laid-back charm and coolness factor, although its part-hippie and part-Rastafarian roots are mostly window dressing for the sanitized comfort of the gated all-inclusives.
The list of all-inclusives comprises some of Jamaica's most famous names; Couples, Sandals, and Hedonism, among others. Having visited and stayed at several, including the lovely Couples Swept Away, my take on them is that they are a great choice for vacationers, especially first time visitors to Jamaica, who want to relax, be catered to in a beachfront setting, and have hassle-free access to anything from day trips to water sports. Plus they minimize the risk of crime, which is a concern in many parts of Jamaica.
However, if you're interested in culture and interacting with local people, venturing outside the gates might be a better choice — in which case you might gravitate to the smaller hotels on the south end of the Seven-Mile beach or the boutique hotels along the Black Cliffs, west of where the beach ends and the land changes direction.
As I walked past a series of larger resorts, I noticed that mostly they looked a lot alike, at least so far as the beaches and activities were concerned. They all had boats and kayaks, water activities desks, comfy beach chairs, and the beach was the same from one to the next. Quite honestly, if you're going to sit under a palm tree reading a book on a beach — at least, this beach — one palm tree on one property's beach is usually about as good as another.
But where they differ is in restaurants, activities, and clientele. Deal-seeking couples often find themselves at Sandals, known for casual fun, while the casually elegant Couples resorts (there are two in Negril and two in Ocho Rios) attract a slightly lower-key crowd, many of whom are repeat visitors. And then there's Hedonism: Hedionism II is on the promontory that stopped my beach-walking, and perhaps it's a good thing the promontory interrupts the beach's continuity, because the point has several nude beaches tucked into its little coves.
The Capital of Casual
My walk back was even quieter than the walk out had been. The sailboats and kayaks were pulled in for the night, the lit swimming pools were strung out like a series of glowing oases, the sun was slowly turning golden orange. At Couples, tables for two complete with white linen tablecloths set with roses and champagne glasses were being prepared for romantic dining á deux.
I walked slowly, lingering, my toes flirting with the waves. Here I was in a setting known for vibe and its coolness factor, and what I was doing — walking alone — could hardly be considered cool. The next day, the beach would indeed be bustling with activity: The watersports desks would be open and the ganja sellers would be back, and the waiters would have removed the dirty glasses and used cutlery and the tables. But for now, I was enjoying a different kind of cool, the pleasure of having this darkening beach with the lapping waves and cloud-filtered sunset almost to myself.
There are times for doing and there are times for being. Seven-Mile Beach has both.
Practicalities
Jamaica does have a crime problem: leave valuables in a room safe or the main hotel safe at the front desk.
All inclusive can mean different things to different hotels. At Couples, for instance, it's all-inclusive right down to tips (except for drivers) and scuba diving (an unusual inclusion). Other all inclusives may charge extras. (All charge for spa services, of course.)
If you stay at an all-inclusive, do venture out for a day-trip to town. There are two things you don't want to miss: Jamaican music and Jamaican food. I'm partial to patties (sort of meat pies) and jerk chicken or pork, both of which pack some heat. Akee and saltfish is the "national dish" but it's a bit of an aquired taste. Peas (red beans) and rice, cabbage and carrot salad, and callaloo (a green) round out many meals.
Jamaican music starts late at night — midnight is not uncommon — so if you're going to a concert, get some nap time in during the day.