Trips in Alberta, Atlantic/Maritime Provinces, British Columbia, Quebec, Manitoba, Northwest Territories, Nunavut, Ontario, Saskatchewan, and Yukon.
Click on a red flag to find a trip | See all trips | Travel facts | Back to North America

Canada: The Bucket List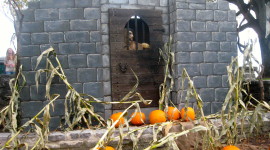 A giant spider crawls on the side of an office building. A sailing ship has run aground in front of Québec City Hall. Halloween decorations set the tone for our family visit to Québec City, with grandchildren in tow. Ships have a lot to do with the history of this city: ...
Read More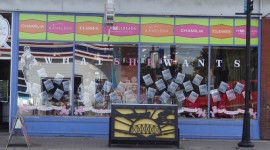 "You are never a great man when you have more mind than heart." The quote from British historian E.P. Beauchene, painted on a mural beside the DaDe Art and Design Lab on 9th Avenue SE in Calgary, could well be the slogan for the surrounding Inglewood neighborhood. Heart is certainly not ...
Read More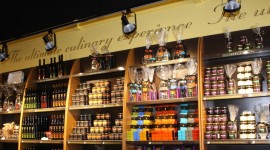 Come for the plays. Stay for the food. If I had my way, that would be the slogan for Stratford, Ontario, about 90 minutes southwest of Toronto. The small Canadian city (population 30,866) is known primarily in travel circles for the Stratford Festival, which focuses on Shakespearean plays but it also ...
Read More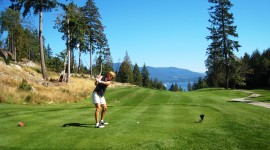 The car is on the Queen of Capilano ferry. Forget about island hopping, fairways are on my mind! The view of the North Shore Mountains widens as we head out of the Horseshoe Bay Harbor to the calm waters of Howe Sound. From the mountains to the ocean, outdoors activities contribute to ...
Read More
Canada: Travel Facts
Coming soon