Trips in the Caribbean, Mexico, and Central America.
Click on a red flag to find a trip | See all trips

Caribbean, Mexico, and Central America: The Bucket List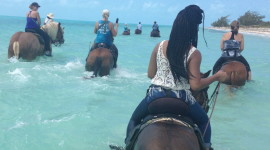 Diamond had been rescued from a schizophrenic pothead on Provo, I learned. The standardbred horse sometimes takes issue with people at eye level, but he was a sweetheart once I took the saddle. Similar stories ride on the backs of the two dozen or so indigenous and imported Turks & Caicos ...
Read More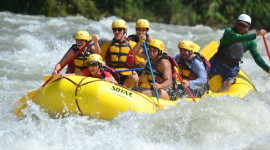 I perched in the front of the bouncing rubber raft like a figurehead, clinging to the side straps for dear life, forgetting not to scream as wave after wave slapped my face and filled my mouth. Peals of pure laughter followed my shrieks of  joy while my raft mates paddled ...
Read More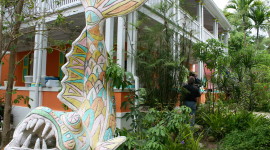 Most shoppers were trying on diamond bracelets and spritzing perfume at glamorous, name-brand, duty-free shops; or pawing through cheap knock-offs and imported baskets at the Bay Street Straw Market. Me? I was scouring galleries for Junkanoo-inspired art and masks, Out-Island hand-plaited baskets, and other authentic souvenirs of Nassau, capital of ...
Read More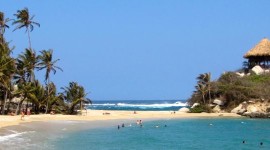 Watching mating turkeys was never really how I envisioned my Caribbean paradises. Nonetheless, as the morning sun turned my tent all aglow, I started my first full day in Tayronait to the ruckus of a horny male gobbling after an uninterested hen. The courting had gone on much of the ...
Read More