Trips in Belize, Costa Rica, El Salvador, Guatemala, Honduras, Nicaragua, and Panama.
Click on a red flag to find a trip | See all trips | Travel facts | Back to Caribbean, Central America & Mexico

Central America: The Bucket List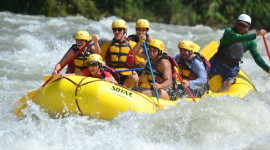 I perched in the front of the bouncing rubber raft like a figurehead, clinging to the side straps for dear life, forgetting not to scream as wave after wave slapped my face and filled my mouth. Peals of pure laughter followed my shrieks of  joy while my raft mates paddled ...
Read More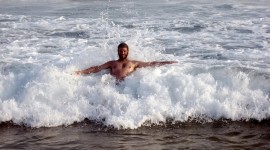 I chose it because the beach was of a clothing-optional variety, and coming from a fairly purist Southern family, I'd not seen a lot of that sort of thing: strangers' boobs set free in nature and whatnot. I couldn't very well tell my girlfriend at the time (in the coming ...
Read More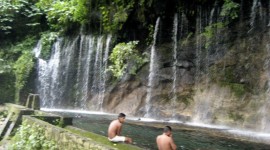 Honestly, I think we picked the location first for its name: Juayua. Not only was the spelling aesthetically pleasing in its arrangement of letters, but the pronunciation—Who-ah-you-ah—had sent my wife Emma and me into fits of giggles. Strange how some words just do that. Whatever the case, we were fortunate ...
Read More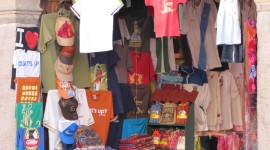 We all have our weaknesses, and one of mine is souvenirs. Admittedly, it's not the most masculine of traits, not the one I like to write to the guys back home about, but I've spent many a traveling afternoon scouring markets and engaging in hard-nosed negotiations. And, I can tell ...
Read More
Central America Facts
Main International Airports: Belize City, Belize; San Pedro and Liberia, Costa Rica; San Salvador, El Salvador;  Guatemala City, Guatemala; San Pedro, Tegucigalpa, and Roátan, Honduras; Managua, Nicaragua; Panama City, Panama
Currency: Belize: Belizean dollar (U.S. dollars widely accepted). Costa Rica: colón. El Salvador: American dollar. Guatemala: quetzal. Honduras: lempira. Nicaragua: cordóba. Panama: American dollar
Population: Belize: 321,000.  Costa Rica: 4,600,000. El Salvador: 14,000,000. Guatemala: 6,000,000. Honduras: 8,100,000. Nicaragua: 5,700,000. Panama 3,500,000.
Capitals: Belmopan, Belize. San Pedro, Costa Rica. San Salvador, El Salvador. Guatemala Cty, Guatemala. Tegucigalpa, Honduras. Managua, Nicaragua.. Panama City, Panama
Climate: Tropical. Rain and cloud forests in the interior along the Continental Divide can be much wetter and colder with elevation gain. Parts of the Pacific Coast, particularly in Costa Rica, are quite dry. The rainy season is usually (give or take) July-August-September.. On the Atlantic coast, this is also hurricane season.
Major Languages: Spanish. English is the official language in Belize. Various versions of Mayan are also spoken, particularly in  countryside.
More Facts: Visas are not required for tourists from the US, Canadian, and UK (as well as many other nations).
Medical Information: Most tourists travel to the region with no special precautions, although you should use insect repellents to try to avoid being bitten, as dengue fever and other insect-borne illnesses are sometimes present. Drink only bottled or boiled water. For current health issues in central America, see the Center for Disease Control's Central America page.
Time Zone: Most of Central America is on Central Time (UTC – 6); Panama is on Eastern time (UTC – 5) except during Eastern Daylight Savings Time. Standard times:  See World Clock for seasonal adjustments.
Information updated February, 2013. The information provided here is for planning purposes only: Please check with the Centers for Disease Control and your health care provider for updated medical information and recommendations, and with the embassy of the country to which you are traveling for the most current visa information.