Trips in Anguilla, Bahamas, Barbados, British Virgin Islands, Cuba, Dominica, Dominican Republic, Jamaica, Puerto Rico, St. Lucia, St. Maarten, St. Martin, St. Vincent and the Grenadines, Trinidad, Turks and Caicos, and the US Virgin Islands.
Click on a red flag to find a trip | See all trips | Travel facts | Back to Caribbean, Central America & Mexico

Caribbean: The Bucket List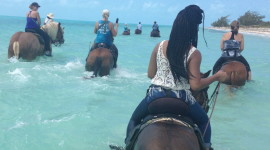 Diamond had been rescued from a schizophrenic pothead on Provo, I learned. The standardbred horse sometimes takes issue with people at eye level, but he was a sweetheart once I took the saddle. Similar stories ride on the backs of the two dozen or so indigenous and imported Turks & Caicos ...
Read More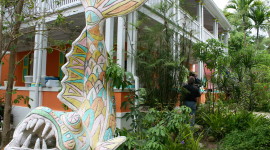 Most shoppers were trying on diamond bracelets and spritzing perfume at glamorous, name-brand, duty-free shops; or pawing through cheap knock-offs and imported baskets at the Bay Street Straw Market. Me? I was scouring galleries for Junkanoo-inspired art and masks, Out-Island hand-plaited baskets, and other authentic souvenirs of Nassau, capital of ...
Read More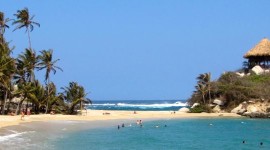 Watching mating turkeys was never really how I envisioned my Caribbean paradises. Nonetheless, as the morning sun turned my tent all aglow, I started my first full day in Tayronait to the ruckus of a horny male gobbling after an uninterested hen. The courting had gone on much of the ...
Read More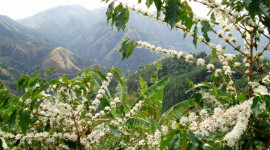 Folks are friendly in the mountains of Jamaica, but in an unpracticed way. They will tell you how to behave and it's always best to listen for your own sake: They're almost always right. Then they'll tell you a funny story. Definitely listen to that. To illustrate: We had walked from ...
Read More
Caribbean Facts
Note that we've included Bermuda, the Bahamas, and Turks and Caicos on our Caribbean page because that's where most people will look for them — even though they are technically not in the Caribbean (and Bermuda isn't anywhere near the Caribbean!) We are including countries on this page as we add coverage for them.
Main International Airports: Many of the smaller islands must be reached by short-haul flights. The major regional hub for international traffic is San Juan, Puerto Rico. Miami International also acts as a hub for the region.
Other international airports are found in Aruba, Bahamas (Nassau), Barbados, Bonaire, British Virgin Islands (Tortola), Cayman Islands, Cuba (Havana), Curaçao, Dominican Republic (Punta Cana; other international airports in the DR serve Santo Domingo, Santiago, Puerto Plata, Samaná, La Romana), Guadeloupe (Pointe-à-Pitre), Jamaica (Montego Bay and Kingston.), Martinique (Fort-de-France), Saint Lucia (Hewanorra International Airport in Vieux Fort Quarter handles long-haul flights; inter-island flights also come into Castries), Saint Kitts and Nevis, Sint Maarten, Trinidad and Tobago (Port of Spain), United States Virgin Islands (Saint Thomas and Saint Croix).
Currency:
U.S. dollar: British Virgin Islands, Caribbean Netherlands (Bonaire, Sint Eustatius, Saba), Puerto Rico, Turks and Caicos Islands, U.S. Virgin Islands.
Euros: Guadeloupe, Martinique, Saint Barthélem, Saint Martin.
Eastern Caribbean dollar: Anguilla, Antigua and Barbuda, Dominica, Grenada, Montserrat, Saint Kitts and Nevis, Saint Lucia, Saint Vincent and the Grenadines.
Other: Trinidad and Tobago: Trinidad and Tobago dollar. Curaçao and St. Maarten: Netherlands Antillean guilder. Jamaica: Jamaican dollar. Haiti: Haitian gourde. Dominican Republic:  Dominican peso. Cuba Cuban peso. Cayman Islands: Cayman Islands dollar. Barbados: Barbadian dollar. Bahamas: Bahamian dollar. Aruba: Aruban florin.
Population: Cuba: 11,250,000. Haiti: 10,300,000. Dominican Republic: 10,200,000. Puerto Rico (US): 3,743,000. Jamaica: 2,761,000. Trinidad and Tobago: 1,351,000. All other Caribbean island counties have populations of less than 500,000.
Largest Cities: Santo Domingo, Dominican Republic; Havana, Cuba; Port-au-Prince, Haiti; Kingston, Jamaica.
Climate: All of the Caribbean is in the tropics. Most of the Bahamas are just north of the tropic of cancer, and Bermuda is several hundred miles north. In the Caribbean, summer is low season — also hurricane season, which runs into the fall. Winter is high season, with prices especially high during school breaks. Inland climates can be cooler and wetter, especially on islands with high volcanoes.  Rainfall varies significantly from island to island, and also from place to place on particular islands.
Major Languages:
English is the official language of most of the Caribbean. (Anguilla, Antigua and Barbuda, Bahamas, Barbados, British Virgin Islands, Cayman Islands, Dominica, Grenada, Jamaica, Montserrat, Saba, St. Eustatius, St. Kitts and Nevis, St. Lucia, St. Maarten, St. Vincent and the Grenadines, Trinidad and Tobago, Turks and Caicos Islands, U.S. Virgin Islands).
Spanish is the official language of Cuba, and Dominican Republic. (Puerto Rico has both English and Spanish as official languages. French is the official language of Guadeloupe, Haiti, Martinique, St. Barthelemy and St. Martin. Dutch is the official language of Aruba, Bonaire, Curacao, Saba, St. Eustatius and St. Maarten)
Haitian Creole is the official language of Haiti.
Papiamento (a Portuguese and Spanish-based Creole language) is also recognized as an official language in Aruba, Bonaire, and Curacao.
More Facts:Visas are not required for tourists from the US, Canada, and UK (as well as many other nations). American citizens are not allowed to travel to Cuba (with some exceptions).
Medical Information: Most tourists travel to the region with no special precautions, although you should use insect repellents to try to avoid being bitten, as dengue fever and other insect-borne illnesses (including, very occasionally, malaria) are sometimes present. Cholera and measles are sometimes present, as well. Drinking only bottled or boiled water is a sensible precaution, particularly in remote areas. For current health issues in the Caribbean, see the Center for Disease Control's Caribbean page.
Time Zone: The eastern Caribbean is on Atlantic time (UTC – 4). The western Caribbean is on Eastern time (UTC – 5). See World Clock for seasonal adjustments.
Information updated February, 2013. The information provided here is for planning purposes only: Please check with the Centers for Disease Control and your health care provider for updated medical information and recommendations, and with the embassy of the country to which you are traveling for the most current visa information.