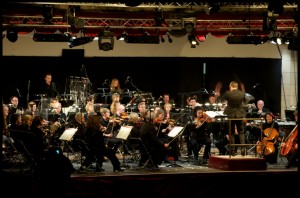 The rippling notes of a Beethoven piano sonata pour into the auditorium. Edinburgh's Usher Hall, filled to capacity, is under a spell. It's world-famous virtuoso Alfred Brendel's final performance at the Edinburgh International Festival and some 2200 people, all in best bib and tucker, are loving every second. Except me, that is. I can't wait for it to end.
I mean no disrespect to the awesomely talented Mr Brendel. I've been looking forward to this for weeks and at any other time I'd be in heaven along with the rest of the audience. But for the past five minutes I've had a tickling sensation at the back of my throat. It's grown and it's grown until I have to – I really have to – cough.
In Your Bucket Because

You want to see or hear some of the world's very best performers in the arts.
For three weeks, Edinburgh becomes the world's cultural center – and you want to be there.
Wonderful for music, dance and theatre afficionados.
But I can't. Not here, not now. This is the Edinburgh Festival, it's Alfred Brendel. Think how people would react if a phone went off, how the unwitting perpetrator would be snubbed in polite society. Then imagine being the one who's going to disrupt this wonderful performance with an explosive fit of coughing which, owing to the hall's acoustics, will be clearly audible to Absolutely Everyone.
The Edinburgh Arts Festival
I don't know if my concerns are valid. Perhaps it won't sound so bad, perhaps people won't care. But the fact is that Edinburgh's international festival, which was established in 1947 and has been the focus of three weeks of mayhem in the city ever since, has a reputation locally for being somewhat snooty. It isn't really surprising when you consider how it sees itself: its founders, according to the Festival website, "had a vision of a Festival that could enliven and enrich the cultural life of Europe, Britain and Scotland and 'provide a platform for the flowering of the human spirit'."
Personally I think the festival only seems culturally highbrow when set against the manic loucheness of the anything-goes Fringe, which was established almost as an antidote to the Festival's perceived elitism. Some of the items on the programme might seem inaccessible and, indeed, rather indigestible, but the tickets are available to anyone and there are plenty of discounts available.
Over the years I've seen some cracking stuff. Okay, my tastes are mainstream and I tend to steer clear of anything too difficult or controversial, but a wonderful production of Strindberg's Miss Julie still sticks in my mind after over 20 years, as does a performance of a Brahms symphony. And if posh is the standard…well, it's nice to get dressed up.
Edinburgh at Festival Time
There is, of course, much more to an Edinburgh summer than just the Arts Festival. There are so many events going on it can get a little confusing –the Fringe, the Jazz Festival, Book Festival, TV Festival, Film Festival and, of course, the Edinburgh Military Tattoo. But the long and the short of it, if you turn up in Edinburgh in August you'll find something cultural to do and see – so why not go a little upmarket and see some of the best performers in the world?
The best events will sell out early (I'm a little suspicious of those that don't) so it pays to plan ahead. Alternatively, you can take in the fireworks concert. You may not be lucky enough to get tickets for the showpiece open air concert in Princes Street Gardens, with its stunning pyrotechnics against the background of the Castle, but watching the fireworks is free. Locals in the know argue about the best place to watch: Inverleith Park in the north of the city, perhaps, or Calton Hill. Take a picnic, take a radio and sip a glass of wine as you listen to a live broadcast of the concert -– and pray that Edinburgh's infamous haar, a sea fog, doesn't roll in.
Back at the Usher Hall, I'm becoming desperate. I stuff a hanky in my mouth but the tickling doesn't stop. I hold my breath, bury my face in my scrunched-up jacket, to no avail. A cough emerges, prompting a ripple of irritation at the end of the row. Heads turn towards me. Something is passed from hand to hand and, eventually reaches me.
It's a boiled sweet. As quickly and as quietly as I can I unwrap it and stick it in my mouth. It does the trick: the urge to cough subsides. I raise my head and look along the dark row and my neighbour, in the shadows, smiles at me. These posh festival-goers are human after all. I smile back: and Alfred Brendel plays on, undisturbed.
Practicalities
The Festival takes place in venues across the city for three weeks in August. It's distinct from the many other festivals which run at the same time and its focus is on opera, dance, music and theatre.
The Festival headquarters are in the Hub, a converted church at the top of the Royal Mile, where you can go to buy tickets or have a drink or a meal.
Tickets go on sale in March so if there's something you really want to see, book well ahead. There are standby tickets available at a reduced rate. Ticket prices vary: in 2012 you could get a 'no-view' seat at the Queen's Hall for just £8 (around $13) – or you could pay £68 ($110) for the top-priced seats at the Festival Theatre.