It is daybreak and I have the promenade of Blount Small Ship Adventures'  Grande Mariner  to myself. Sometime during the night we'd made our way through  Lake St. Clair, passing the big-city lights of Detroit. Now, as we traverse the passage between Lake St. Clair and Lake Huron, night birds wing their way home, flapping silhouettes in the soft mists rising from the river. Our watery path, herringbone patterned by the ship's pulsing engines, turns from steel gray to silver to soft rose as we pass shore-side cottages and grand houses, stretches of  woodlands, tiny settlements.
In Your Bucket Because ………

You realize you've never visited America's heartland
You enjoy small ships' ability to duck into places the big ships can't go
You never dreamed one could sail between Rhode Island and Chicago
It is day eleven on a sixteen-day itinerary into the heart of America. One might say the "real" America; the America where the history of the United States was born; the America of small town charm and delightfully unsung cities; the America that made its way west courtesy of watery pathways, natural and manmade.
Appropriately for such a journey, the Grande Mariner is an all-American vessel — built by an American boat-building family, completely staffed by an all-American crew, proudly flying the American flag.
Seeing America by Ship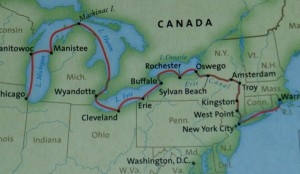 Few think of touring the vast expanses of United States via ship — a flight between a here and a there most readily comes to mind, or taking to the country's Interstates behind the wheel of a car. Except for those who know of Blount Small Ship Adventures' fleet of four vessels that sail with the motto: "Go where the big ships cannot."
With a blast of the horn we pulled away from Blount's dock in the company of sail boats and floating lobster traps on Narragansett Bay. Our days  aboard would take us down the coast of New England. into interior rivers, historic canals, and the enormity of the Great Lakes. Our final destination Chicago. Inevitably when docked along the way, curious passersby would ask, "Where did you start?  Where are you going?" and then exclaim, "Chicago!  How do you do that?"
On a Blount Small Ship Adventures cruise, expect comfort but nothing fancy. The  itinerary is the show — a show that provided me with unexpected nsights and highlights galore.
New York and the Hudson Highlands
On a blue sky, puffy white clouds morning, we entered New York City's East River to  cruise past the city's magnificent skyline. At Manhattan's tip, Ellis Island came into view, entry point for thousands of immigrants into a new life. We paused at the foot of the  Statue of Liberty – "Give me your tired, your poor, your huddled masses yearning to be free" – while listening to a 1940s recording of "God Bless America," sung by legendary American songstress Kate Smith.
More highlights to come: An optional shore excursion took us on a tour of the United States Military Academy at West Point. Located on  high ground overlooking the Hudson River, we toured buildings and landmarks so noteworthy that the Academy's entirety is a National Historic Landmark.
Lock Number One on the Erie Canal
All on board eagerly awaited our entry into the Erie Canal, the 363-mile path into America's interior that began with a turn of shovel in 1817. Today the Erie Canal is open only to small recreational vessels – save for Blount vessels that are precisely designed to fit through the canal's dozens of tight transit locks and under the lowest of bridges.
As we approached the first lock, everything on the top deck folded flat; the Pilot House descending  hydraulically to the deck below. With that, we time-traveled into an era when a distance of sixty miles between towns meant a day's journey rather than a short automobile jaunt. Blue heron stood at water's edge, osprey dived for dinner as we passed through rural countryside en route to docking in the center of  towns along the way.
Into the Great Lakes
We  followed the Erie Canal's route half way, exiting via the Oswego Canal into Lake Ontario. Following overnight stops at Oswego and Rochester, New York, the Welland Canal deposited us into Lake Erie, the Great Lake's smallest, to dock at Buffalo. While most on board opted for a shore excursion to view the torrents of nearby Niagara Falls. I spent the day exploring the architecturally and historically rich city, unexpectedly stumbling in my wanderings across the Anchor Bar, birthplace of  "Buffalo chicken wings," here simply called "wings" — spicy, messy, incredibly delicious.
On into Lake Michigan where we spent a day on tiny Mackinac Island where naught is heard but the clip-clop of horses' hoofs; motorized vehicles have been prohibited on the  island since 1895. At dock in Cleveland, Ohio,  I spent a happy afternoon taking in the  Rock and Roll Hall of Fame's extensive exhibits. And then Chicago, the grand finale of our Grande Mariner, voyage with a complete day at our disposal.
Destination Chicago
Taking advantage of the ship's city-center docking, I stepped into this most walkable of big-city downtowns. Skyscrapers were on my mind; Chicago is the only metropolitan city in the world where one can see examples of  the 19th century starting point of skyscraper architecture and follow it through to the present day.Chicago Architecture Foundation's River Cruise, with a Foundation docent supplying superb commentary, provided an overview as we followed the Chicago River through the heart of downtown. In the afternoon, a two-hour walking tour traced the development of skyscrapers, including entrance into their often sumptuously art deco  interiors.
Now it was time to say  goodbye to the small ship Grande Mariner. As I made my final way down the gangplank,  a passerby asked me a variation of the question heard so often along the  way, " Where did you come from?  Rhode Island!  How do you do that?"
"Well," I answered, as I turned for a last look at the vessel upon which I'd  traveled for  sixteen days, "the first thing you do is step aboard a boat designed to go where the big ships cannot."
Practicalities
Blount Small Ship Adventures offers 13 itineraries in the United States, including: Nashville to New Orleans via the Mississippi; Islands of New England;  Florida to Rhode Island; as well as Warren, Rhode Island to Chicago. 1-800 566-7450.