Trips in the British Isles, France, Italy, Spain and the Iberian Peninsula, Central Europe, Eastern Europe, Scandinavia and Baltic, and Southeastern Europe.
Click on a red flag to find a trip | See all trips

Europe: The Bucket List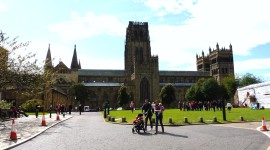 It is difficult to imagine a defensive structure more strategically situated. Guarded by steep slopes descending to an almost complete loop of the River Wear, Durham Castle remained impregnable for eight centuries. Yet even this fortress is dwarfed by the huge cathedral that shares its peninsula. Having grown organically through centuries, ...
Read More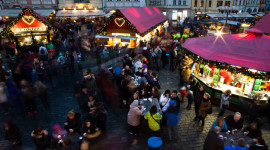 It feels as though I am swimming upstream in a school of fish. I must look down to pay attention to the uneven cobblestone streets, which while romantic in looks, provide an ongoing challenge in balance. I immediately regretted giving in to the handwritten signs for svařak, the hot mulled ...
Read More
Alpine chalets. Half-timbered wood-and-stucco houses. Long house-and-barn combos brimming with flower boxes. I had seen hundreds of these houses in southern Germany and Switzerland, in the Alpine landscape surrounding Lake Constance. Houses perched above water, on stilts? Impossible! A visit to the Pile Dwelling (Pfahlbau) Museum in Unteruhldingen, Germany, convinced me of just ...
Read More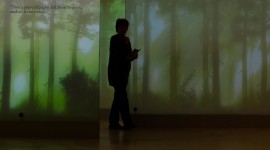 I close my eyes and imagine walking through a forest, the wind whispers in my ear telling me that I am home. I should rest here. If you allow yourself the freedom to put yourself in this place, you could be in Polin. And if you have the desire to ...
Read More