Trips in the British Isles, France, Italy, Spain and the Iberian Peninsula, Central Europe, Eastern Europe, Scandinavia and Baltic, and Southeastern Europe.
Click on a red flag to find a trip | See all trips

Europe: The Bucket List
If there were any doubts as to the power and prestige of the German Empire, Speyer Cathedral (the Dom or Kaiserdom in German) would lay them all to rest. Such was the goal of Conrad II, Salian King and Holy Roman Emperor, as he ordered construction of Speyer Cathedral in 1030 ...
Read More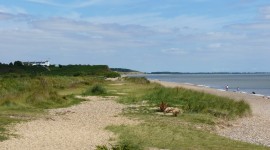 I had been sitting for less than a minute. The surrounding expanse of heather played a seemingly infinite set of variations on the theme of purple interrupted by contrasting yellow patches of knee-high gorse. A sudden movement, and a tiny bird disappeared into a taller clump of gorse. As I ...
Read More
Ante Romam Treveris Stetit Annis Mille Trecentis. Trier stood one thousand three hundred years before Rome. So says the inscription on the front of the Red House in the heart of Trier's Hauptmarkt square. It's a bogus claim, one invented by some medieval resident centuries ago. But looking over the wealth of ancient ...
Read More
Germans seldom need an excuse to raise a frothy beer and exclaim "Prost!" But each autumn a new Oktoberfest rolls around, giving locals and tourists as good a reason as any to raise a toast and have another drink. Bavaria's most famous festival is often called Wiesn by locals, a colloquialism ...
Read More