Trips in the British Isles: England, including Cornwall, Dover, London, Yorkshire, and the Channel Islands; Scotland, including Edinburgh and the Outer Hebrides; Wales; Northern Ireland; and Ireland, including Dublin.
Click on a red flag to find a trip | See all trips | Travel facts | Back to Europe

British Isles: The Bucket List
It rained much of the way, we got lost once or twice and my boot got stuck in the mud. But none of this mattered. We were walking through some of England's most beautiful countryside, following rivers, dales and moorland. Apart from the sheep we had the place to ourselves. In ...
Read More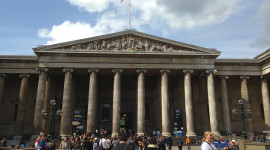 The tube had just gone on strike. That hour. Snarled with traffic, London's streets looked hopeless for a taxi ride. It was only a mile on foot, according to Google Maps, to see the world's greatest repository of archaeological artifacts under one roof. Normally, that wouldn't be a challenge, but ...
Read More
Greenwich was busier than usual. The river was full of sailing ships, here for the Tall Ships Festival, and it seemed as if all London had turned out for the event. So I wasn't sure about visiting the Cutty Sark, a popular visitor attraction at the best of times. But ...
Read More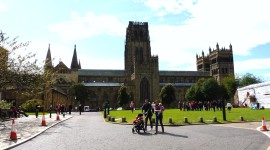 It is difficult to imagine a defensive structure more strategically situated. Guarded by steep slopes descending to an almost complete loop of the River Wear, Durham Castle remained impregnable for eight centuries. Yet even this fortress is dwarfed by the huge cathedral that shares its peninsula. Having grown organically through centuries, ...
Read More
British Isles: Travel Facts

Main International Airports: Republic of Ireland: Dublin. U.K.: London: Heathrow International. Also near London: Gatwick and Stansted. Also: Manchester, Edinburgh, Glasgow, Belfast, Cardiff, and others.
Currency: Republic of Ireland: Euros. U.K.: British Pounds.
Population: Republic of Ireland: 4,600,000. U.K.: nearly 63,000,000.
Capitals: Dublin, Ireland. London, U.K. Also: Edinburgh is seat of government for Scotland; Cardiff for Wales, Belfast for Northern Ireland.
Climate: North Atlantic climate catches rain. Temperate summers; moderately cold winters, colder and snowier in the highlands and far north. Exception: Subtropical climate in the Scilly Isles.
Major Languages: English. Welsh is spoken in Wales; there are different Irish and Scottish versions of Gaelic.
More Facts: Both the Republic of Ireland and the U.K. are part of the European Union. U.S., Canadian, and E.U. citizens are not required to have tourist visas. For more info/other nationalities: U.S. State Department. U.K. visa information, Republic of Ireland visa information.
Time Zone: Standard time for London = UTC. See World Clock for seasonal adjustments.