Trips in the Iberian Peninsula: Spain (includes Canary Islands and Balearic Islands), Portugal, and Andorra.
Click on a red flag to find a trip | See all trips | Travel facts | Back to Europe

Spain & the Iberian Peninsula: The Bucket List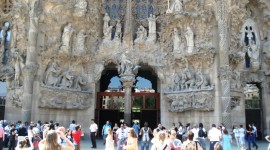 Our first view of the Sagrada Familia is from the top of Montjuic Hill at the end of the funicular ride up from the Ave Paral.lel. My eyes sweep over the panorama below Barcelona, and then, rising above it, the unmistakeable shape of Gaudi's masterpiece. Even from this distance, it ...
Read More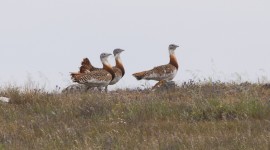 Jorge, our guide, certainly knew where to find the birds. And when. He had convinced us to abandon the comforts of our hotel at 7 am, and had negotiated with the management to provide us with a packed breakfast to bring with us. In the early morning light, even the ...
Read More
The gardens of Córdoba's Alcazar may be smaller than those of rival palaces in Seville and Granada, but they are still impressive. Even in the rain. I had walked through Córdoba's UNESCO listed historic centre, from the magnificent La Mezquita and through little winding streets where Spanish culture vies with Moorish ...
Read More
We spotted our first birds within half-an-hour of leaving Lisbon Airport. Crossing over the Tagus estuary on the 17.2 km Vasco da Gama Bridge, the longest in Europe, we gazed over a vast area of mud flats, dotted with waders too distant to identify. On reaching the eastern bank, however, ...
Read More
Spain & the Iberian Peninsula: Travel Facts
Main International Airports: Madrid, Lisbon, Barcelona, Majorca.
Currency: Euros.
Population: Spain: 47,000,000. Portugal: 10,600,000. Andorra: 46,000.
Capitals: Madrid, Spain. Lisbon, Portugal. Andorra-la-Vella, Andorra.
Climate: Mediterranean. Mountain climate in the Pyrenees. Hotter and drier in the south.
Language: Spanish, Portuguese. In Andorra, Catalan is the official language; French and Spanish are widely spoken.
More facts: Spain and Portugal are in the EU. Andorra is not, but uses the euro. American and Canadians do not need tourist visas.
Time zone: Standard time is UTC + 1. See World Clock for seasonal adjustments.