Trips in Albania, Bulgaria, Croatia, Cyprus, Greece, Malta, Macedonia, Moldova, Montenegro, Romania, Serbia, and Turkey.
Click on a red flag to find a trip | See all trips | Travel facts | Back to Europe

Southeast Europe: The Bucket List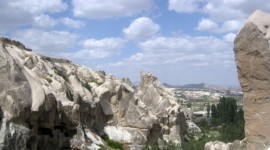 As an independent traveler, it happens every so often: You find yourself walking beside a road in the middle of the desert, cars whizzing by you with little regard, no more than a bottle of water and a book in your bag. It was that way one afternoon in middle ...
Read More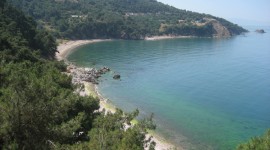 On the ferries to Princes' Islands, I would always drink copious amounts of tea. Waiters with dangling trays roamed up and down the decks touting chai for less than a dollar, delivering a tear-drop Turkish tea cup on a little glass saucer, complete with spoon and paper-wrapped sugar cube. Usually, ...
Read More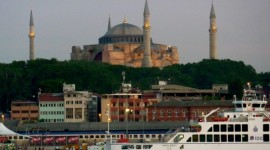 Standing at the corner of Taksim Square, I gaze into the multi-faceted soul of Istanbul: Istiklal Cadessi (Independence Avenue) is a wide pedestrian-only street that stretches about a mile and half, from Taksim Square to Galata Tower, and from about noon to beyond midnight any day of the week, it ...
Read More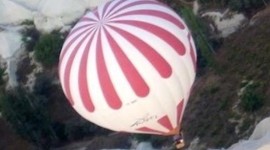 An hour before sunrise, a van pulled up to our cave hotel. I had had trouble sleeping that night so rather than pace around the well-appointed stone room, I sat outside appreciating a view so different that I knew I'd never see anything like it again. Millions of years of volcanic eruptions, ...
Read More
Southeast Europe: Travel Facts
Main International Airports:
Greece: Athens
Turkey Istanbul (for European Turkey)
Albania: Tirana
Bosnia and Herzegovina: Sarajevo
Bulgaria: Sofia
Croatia: Dubrovnik, Zagreb
Kosovo: Priština
Romania: Bucharest
Serbia: Belgrade
Currency: Greece, Kosovo, and Montenegro use the euro. Turkey uses the lire, although euros and even dollars are widely accepted in some tourist areas. The other countries their own currencies.
Population: Greece: 10.800,000. Turkey 80,000,000. Bulgaria: 7,400,000. Romania: 19,000,000. Albania: 2,800,000. Bosnia and Herzegovina. 3,700,000. Kosovo. 1,700,000. Macedonia: 2,000,000. Montenegro: 625,000. Moldova: 493,000. Croatia: 4,200,000. Serbia: 7,000,000.
Capitals: Athens, Greece; Ankara, Turkey; Sofia, Bulgaria; Bucharest, Romania; Tirana, Albania; Sarajavo, Bosnia and Herzegovina; Proshtina, Kosovo; Skopje, Macedonia; Kishinev, Moldova; Podgorica, Montenegro; Zagreb, Croatia; Belgrade, Serbia.
Climate: Mediterranean with a lot of variety inland. Largely mountainous. Hotter and drier in the south. Variably wet and damp in the winter depending on latitude and elevation and exposure to marine weather systems.
Major languages: Greek, Turkish, Serbian, Croatian, Albanian, Bosnian, Bulgarian and Macedonian, Romanian, Slovene.
More facts: Greece is part of the European Union. Americans need a tourist visas for Turkey (available at most border stations). Check with the U.S. State Department for current regulations for other countries.
Time zone: Standard time is UTC + 2. See World Clock for seasonal adjustments.
Info, links updated February, 2013