Best kept secret by history teachers: History is *really* interesting. It's just that it's a whole lot more exciting to learn about the ancient Nabateans when you're riding on a horse-drawn carriage through the streets of Petra than to yawn through a history book. From Petra to Kilwa, from the pyramids of the Mundo Mayo to the pyramids of Egypt, from the temples of Thailand to the lost city of Machu Picchu, from the ruins of Athens, Rome, and Stonehenge: Our writers bring you the stories and pictures that bring the past to life. And they take you to living history, as well: to the vibrant arts and cultural attractions that make each destination unique.
Click on a red flag to find a trip | See all trips | See UNESCO World Heritage Sites

Historic & Cultural Sites: The Bucket List
Michael's shtick is designed to make us feel smart. We are smart to be on his tour, smart to ask the questions we pose. Most other tourists don't notice that, he insists, as we gape at the trompe l'oiel on the ceiling of the Vatican's Hall of Tapestries, or point to the ...
Read More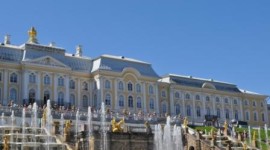 Summer in St. Petersburg: white nights, cruise ships, guided tours...  and crowds everywhere. Museum queues are reminiscent of bread lines during the Communist years, tour groups are marched through the palaces as if on a conveyor belt, and in some rooms at the Hermitage, you have to practically jump up and ...
Read More