Theme parks come in a variety of flavors, from old-fashioned amusement parks to space-age experiences. At BucketTripper, we feature theme parks that are perennial visitor favorites, and we'll try to show you how to "do them right." Note: With animal theme parks, we take a close look at the purpose of the facility and how animals are housed and treated. Our editor recently stayed at a hotel that housed a baby tiger in a glass enclosure in the middle of a hotel lobby — needless to say, we're NOT covering that kind of a property. We know keeping animals in captivity for human enjoyment is a controversial subject. But where we find animal themed parks that seem to have their heart in the right place, with a conservation, rescue, or education mission, we'll share those places with you.
Click on a red flag to find a trip | See all trips

Theme Parks: The Bucket List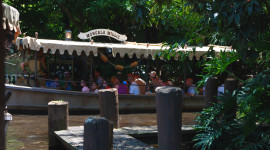 Dusk swept in as the jungle drums were beating and torches flickered along the edge of the boat launch. Mom paused for a photo with a tall tiki. "Send this to Autumn, she'll love it!" she said, as I snapped the image with my iPhone and emailed it to my niece ...
Read More
I nervously eye the long, clear tube. Ten stories high, it plunges steeply down, tilts to a 45-degree angle while making an enormous loop-de-loop, then drops into a narrow chute, where it deposits its contents — humans. Dubbed the Scorpion's Tail, it's one of the newer rides at Noah's Ark, ...
Read More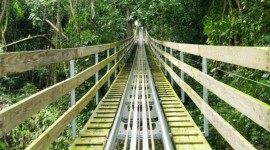 I  am sitting in something that look like a bobsled, although instead of running on snow, the contraption hurtles on metal tracks through a tropical forest. With a white-kunckled grip on a handbrake,  I supposedly have control of the speed, but no matter how much I brake, it seems that ...
Read More