Forget 50 shades of gray. On the Oregon's Eagle Creek Trail, there are a thousand shades of green: Dry moss green, wet moss green, new fern green, unfurled fern green, pine green, cedar green, maple-leaf green when the sun filters through, shady-water green.
Oregon's Eagle Creek is a tributary of the Columbia River. The trail that runs along it, passing eight major waterfalls on the creek itself plus five more in nearby tributaries, is one of the most beloved walking paths in a state that is no slouch in the outdoor beauty spot department. From its highpoint north of Mt. Hood to the Columbia River Gorge, the creek canyon drops some 3,000 feet. The trail along it passes through a fairytale-environment of rich temperate rainforest including giant old-growth western red cedars, western hemlock, and Douglas fir. It is a peaceful, shady world featuring s series of waterfalls, cascades, swimming holes, and dizzying, sometimes precipitous, views.
In Your Bucket Because…

The waterfalls-per-mile numbers can't be beat.
It's a unique trail, and one of Oregon's most-beloved.
Good for: Hikers, nature lovers, and photo buffs.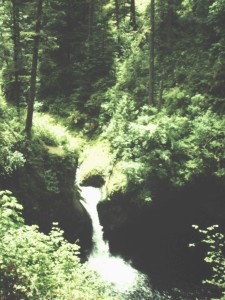 I have to admit that whenever I've hiked the Eagle Creek Trail, I've done it the easy way: downhill. Each time, I arrived at the high end of the trail via a much longer hike coming northbound from the Pacific Crest Trail and the rugged treeline terrain around Mt. Hood. (Most hikers start at the northern end, near I-84, and hike uphill, then turn back and return the way they came.) So when I say the Eagle Creek Trail is easy, it's worth remembering that one person's stroll in the park is another's Mt. Everest — something that was pointed out to me by friends who hiked in to meet me somewhere on the trail who were white-faced from vertigo.
Eagle Creek Trail Facts and Stats
Let's look at some facts and figures, and you can decide for yourself: From the trailhead near the Columbia River Gorge to picture-perfect Punchbowl Falls (and I'm posting a picture to prove that claim) is about 2.3 miles, with about 400 feet of elevation gain. If you want longer and tougher, the trailhead to Tunnel Falls is 6 miles, with more than 1,000 feet of elevation gain. It's not exactly Mt. Everest, but it'll stretch unstretched legs a bit.
For many hikers, though the real issue is the vertigo. Hugging cliff faces, crossing gorge-spanning bridges, squeezing onto ledges (sometimes with cables placed to help the not-so-surefooted), and at one point actually passing through a tunnel blasted into the rock behind 140-foot Tunnel Falls, the trail is something of an engineering marvel, especially when you consider that it was built in 1910 to accompany the opening of the Columbia River Highway.
There are plenty of places to challenge an acrophobic hiker: Within the first mile, the trail hugs cliffs precipitous enough that cables have been drilled into the rock to provide handholds and a bit of security. Farther along, the trail between Loowit Falls and High Bridge (at the 3,3 mile point) seemingly wide and well-maintained, but it can be rocky and slick — not much of a problem until you consider that the path is carved into the side of a cliff 120 feet up. The cables on the cliff help, except when there's two way traffic. Past Tunnel Falls (at about the 6 mile point) is a section of trail referred to as "Vertigo Mile," which rises steeply above the floor of the gorge. The reward is 140-foot tall Twister Falls, a multi-tiered cascade where two separate sprays of water appear to twist around each other.
Perhaps, for me, the most striking aspect of this trail is how different it is. I've always hiked it as part of longer journeys on the Pacific Crest Trail, which tends to favor the high country. Don't get me wrong: I'm an alpine addict, never happier than when I'm above tree-line. But here, the combination of vertiginous cliffs with more than one major waterfall per mile of hiking unleashes the dramatic forces of gravity and water. The effect is magical, and mesmerizing.

Practicalities
This is an ideal dayhike because even in the first mile or two, the trail offers everything from major waterfalls  to vertiginous cliff-side views.
For an out-and-back backpack, note that camping is restricted to designated sites in the first 7.5 miles. The campsite at 7 1/2-Mile Camp has room for about a dozen parties, and makes a good out-and-back destination. Campsites fill quickly on summer weekends, so get an early start.
For longer backpacks, you can make a 27-mile loop by hiking up to Wahtum Lake, then veering northbound on the Pacific Crest Trail. After 6 miles, take the Rucked Creek Trail back to the Eagle Creek Trailhead. Note: Note the Eagle Creek Trail is open all year, but this loop goes to higher elevations, and is usually blocked by snow from November into June. The hike from 7.5-Mile Camp to Whatum lake is STEEP.
Eagle Creek Trailhead is located just off I-84. From Portland, take Interstate 84 to exit 41 (eastbound-only exit). Coming westbound, you'll need to take exit 40 then u-turn back (eastbound) onto I-84 to Exit 40, and go back to exits 41.
A Recreation Fee Pass ($5) is required for to trailhead parking. The parking lot fills by mid-morning on summer weekends. Do not leave valuables in your car.
Because of the cliffs and exposure, this is not a suitable hike for young children. Indeed, don't take any children who are not responsible hikers who follow safety instructions and won't get into pushing and rock-throwing contests.
Watch out for poison oak — it grows here  in abundance.