Trips in the Middle East include excursions in Israel, Turkey, the Eastern Mediterranean, the Arabian Peninsula and the Persian Gulf region.
Click on a red flag to find a trip | See all trips | Travel facts

Middle East: The Bucket List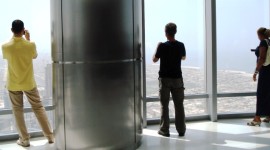 I lean against the wall of silvered mirror tiles and watch as the doors close, then wait for that lurch of my stomach as the elevator begins its long journey. But surprisingly, it doesn't come. It's a smooth ride, the only indication that we are travelling swiftly upwards is the ...
Read More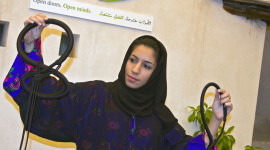 The modern city of Dubai sprang from the desert, seemingly erupted, in just a few decades. The city gleams and sparkles with buildings of glass and steel that soar, lean, bulge, twist and fold, often appearing to defy gravity. And the people -- the people are not what a visitor from ...
Read More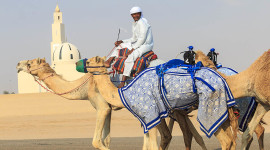 There's lots not to miss in Dubai. But top of my list was the desert safari. Okay, it's a tourist thing. But it's still exotic, a peek at traditional Bedouin life -- and a total giggle. My two friends and I were picked up at our hotel in a four wheel drive ...
Read More
A few minutes ago we were in Abu Dhabi, a noisy, bustling metropolis of high rise concrete, fast cars and muezzins. But here among the mangroves it is calm and peaceful, and there is no sound apart from the gentle swish of paddles. In Your Bucket Because... The mangroves provide a ...
Read More