Trips in Jerusalem, Tel Aviv and the Mediterranean Coast, Red Sea and Negev, Galilee, The Dead Sea, and the Palestinian Territories.
Click on a red flag to find a trip | See all trips | Travel facts | Back to Middle East

Israel: The Bucket List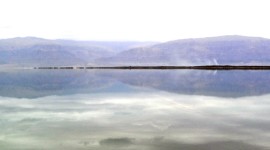 The water looks like nothing special. I walk out till I am thigh-deep, then lean all the way back and kick my feet out from under me. I find myself lying back as if in an (invisible, wet) armchair. I am one of the more than one million foreign tourists ...
Read More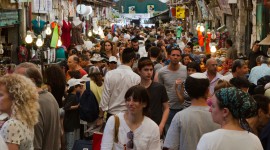 Nir walked onto our bus with a decadent smelling plastic container fogged over from freshly baked warmth. This was one of the perks of having locals on our trip: Being Israeli, Nir had known exactly where to go when our tour group stopped at Mahane Yehuda market. He passed back the ...
Read More
The air still holds the night's chill, although the inky sky is beginning to show just the faintest hint of light. Throngs of students laugh and joke and generally clog the ramp leading to the top of Masada, an arid rock plateau south of Jerusalem overlooking the Dead Sea. Impatient, ...
Read More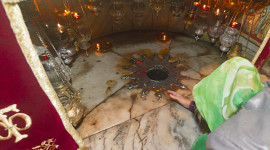 The rental car is safely back without a scratch and filled with gas, and the hold on our credit cards is off. So the story can be told. We were SUPPOSED to drive to the main checkpoint leading into Bethlehem, which is located just across the border, in the West ...
Read More
Israel Facts

Main International Airports: Ben Gurion International, between Tel Aviv and Jerusalem. Ovda Airport (60 k north of Eilat). Eilat Airport (mostly domestic) is scheduled to be replaced by Timna International Airport in 2014.
Currency: New Israeli Shekels: NIS.
Population: Nearly 8,000,000.
Capital: Jerusalem. Most embassies are located in Tel Aviv.
Climate: Mediterranean. Generally dry, with the rains (such as they are) running from autumn into spring. Winters are mild, although temperatures can dip below freezing at higher elevations. Summers can be very hot. Negev Desert in the south. Greener, cooler Galilee in the North.
Language: Hebrew. Arabic and English are also widely spoken (and most street signs are in all three languages).
More facts, including Visas for US citizens: US State Department. Visa information for other nationalities.
Time zone: Tel Aviv: Standard time = UTC+ 2. See World Clock for seasonal adjustments.