Trips in Abu Dhabi, Bahrain, Dubai, Kuwait, Oman, Saudi Arabia, United Arab Emirates, and Yemen. We are omitting Iran and Iraq, because of security issues for travelers.
Click on a red flag to find a trip | See all trips | Travel facts | Back to Middle East

Arabian Peninsula & Persian Gulf: The Bucket List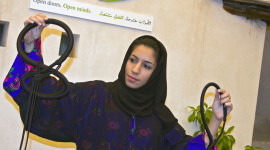 The modern city of Dubai sprang from the desert, seemingly erupted, in just a few decades. The city gleams and sparkles with buildings of glass and steel that soar, lean, bulge, twist and fold, often appearing to defy gravity. And the people -- the people are not what a visitor from ...
Read More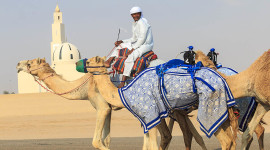 There's lots not to miss in Dubai. But top of my list was the desert safari. Okay, it's a tourist thing. But it's still exotic, a peek at traditional Bedouin life -- and a total giggle. My two friends and I were picked up at our hotel in a four wheel drive ...
Read More
A few minutes ago we were in Abu Dhabi, a noisy, bustling metropolis of high rise concrete, fast cars and muezzins. But here among the mangroves it is calm and peaceful, and there is no sound apart from the gentle swish of paddles. In Your Bucket Because... The mangroves provide a ...
Read More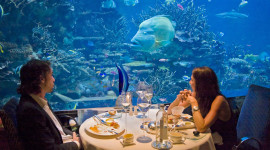 "Ah, not the elevator," my friend said in the lobby of Dubai's Burj Al Arab hotel. "We will ride the submarine to the restaurant." And indeed, we did. After entering a small capsule with bucket seats and fastening our seat belts, lights flickered, sirens screamed, dials trembled and we were pushed back ...
Read More
Arabian Peninsula & Persian Gulf Facts

Main International Airports: U.A.E.: Abu Dhabi and Dubai (Dubai International and Sharjah, which serves mostly Middle-Eastern and Central Asian detinations).
Currency: U.A.E.: dirham.
Population: U.A.E.: 8,300,000, only 13 percent of whom are native Emiratis.
Capital Cities: Abu Dhabi, U.A.E.
Climate: Desert. Summer temperatures can soar above 120 degrees Fahrenheit. The humidity can also be surprisingly high near the coast.
Major Languages: Arabic. English is widely spoken.
More Facts: Visas are not required for U.S. tourists to the U.A.E. Restrictions may apply to (and may be unpredictably enforced on) visitors who have Israeli stamps in their passports, so check before your trip or get a second passport. Be aware that cultural morés and religion-based laws are very different here: While U.A.E. cities have the outward appearance of sophisticated modernity, actions that are innocuous in a western country, such as two friends greeting each other with a kiss on the cheek, can land you in jail. Western women are expected to dress modestly, but head coverings are not required.
Time Zone: The Arabian Peninsula/Persian Gulf countries vary from UTC + 3 to UTC + 4. The U.A.E is UTC + 4. See World Clock for seasonal adjustments.
Information updated February, 2013. The information provided here is for planning purposes only: Please check with the Centers for Disease Control and your health care provider for updated medical information and recommendations, and with the embassy of the country to which you are traveling for the most current visa information.