Trips in Turkey, including activities in Anatolia, Cappadocia, Marmara, Istanbul, and along the Aegean.
Click on a red flag to find a trip | See all trips | Travel facts | Back to Middle East

Turkey: The Bucket List
The surroundings are stunning. Sumptuous Ottoman architecture, Moorish arches, and Iznik tile mosaics. This was where the Sultan lived with his numerous wives, children and concubines, and I am trying to imagine what it must have been like to live here. In Your Bucket Because... The architecture and interior decoration are ...
Read More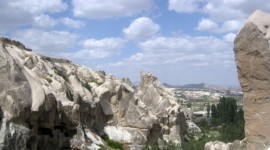 As an independent traveler, it happens every so often: You find yourself walking beside a road in the middle of the desert, cars whizzing by you with little regard, no more than a bottle of water and a book in your bag. It was that way one afternoon in middle ...
Read More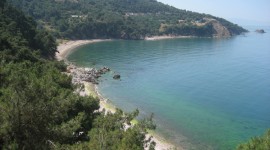 On the ferries to Princes' Islands, I would always drink copious amounts of tea. Waiters with dangling trays roamed up and down the decks touting chai for less than a dollar, delivering a tear-drop Turkish tea cup on a little glass saucer, complete with spoon and paper-wrapped sugar cube. Usually, ...
Read More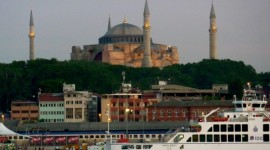 Standing at the corner of Taksim Square, I gaze into the multi-faceted soul of Istanbul: Istiklal Cadessi (Independence Avenue) is a wide pedestrian-only street that stretches about a mile and half, from Taksim Square to Galata Tower, and from about noon to beyond midnight any day of the week, it ...
Read More
Turkey Facts

Main International Airports: Istanbul: Atatürk International Airport (European side), Sabiha Gökçen International Airport (Asian side). Antalya: Antalya Airport. Izmire: Adnan Menderes Airport. Ankara: Esenboğa International Airport.
Currency: Turkish lire (TI).
Population: 74,000,000.
Capital: Ankara.
Climate: Generally dry Mediterranean, but with a lot of variation. Turkey's size, varied topography, and proximity to large bodies of water give it microclimates, including coastal humid zones. Summers can be very hot. Cold temperatures in the 30s and 40s (Fahrenheit) and even snow are possible in the winter.
Language: Turkish. Arabic and English are also spoken, English is more common in heavily touristed areas.
More facts, including visas for U.S. citizens: Turkey's visa requirements seem unevenly enforced and can change. Current published rules are that visas are required, but can be purchase for $20 at ports of entry. Cruise ship passengers supposed to have a 72-hour grace period between port and airport, but this is unevenly enforced (On arrival by cruise ship in Istanbul, I was told the 72-hour rule was nonexistent, and had to pay $30.) Be prepared to pay American cash for a visa when you enter. U.S. State Department Turkey page.
Time zone: See World Clock for seasonal adjustments.
Information updated February, 2013. The information provided here is for planning purposes only: Please check with the Centers for Disease Control and your health care provider for updated medical information and recommendations, and with the embassy of the country to which you are traveling for the most current visa information.