Trips in Canada, the Pacific Northwest, the United States, and Mexico.
Click on a red flag to find a trip | See all trips | Travel facts

North America: The Bucket List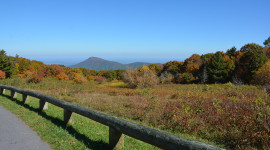 Mid-October is prime time for fall color in Shenandoah National Park in Virginia, best soaked up along its hiking trails and on a leisurely drive along the 105-mile Skyline Drive between Front Royal and Waynesboro. Fall is the finale for the national park, as visitor facilities shut down for the ...
Read More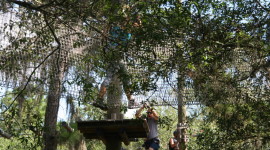 That moment when you realize you will be hooking up your own harness hardware (sans supervision) to the 650-foot TreeUmphant! zip line that is the grand finale to the new aerial base camp experience outside of Bradenton, Florida. Or when you realize that despite all training, you are coming into ...
Read More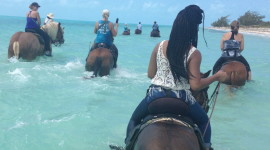 Diamond had been rescued from a schizophrenic pothead on Provo, I learned. The standardbred horse sometimes takes issue with people at eye level, but he was a sweetheart once I took the saddle. Similar stories ride on the backs of the two dozen or so indigenous and imported Turks & Caicos ...
Read More
When you step off the ferryboat on Mackinac Island, a wave of aromas competes for your attention. First, the horses. Make no mistake about it, since Mackinac Island, Michigan, is the only place in America that banned automobiles from its community, the horse-drawn wagons are everywhere, and so are the ...
Read More