Trips in Australia and the Pacific Islands: travels in Australia, New Zealand, Fiji, French Polynesia, Micronesia, Hawaii, and more.
Click on a red flag to find a trip | See all trips | Travel facts

Australia & Oceania: The Bucket List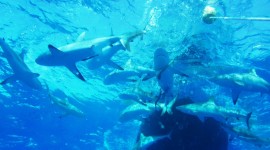 I am hanging on to the safety-stop line, drifting peacefully 15 feet under the surface of the water, when I see my dive buddy's eyes grow wide. Looking up, I see them: First a couple of fins, sleek muscular bodies. More join them. The number becomes uncountable: Sharks, thrashing at ...
Read More
What I really want to do here in Auckland is the SkyJump. You're tied securely into a large harness connected to a wire, then dropped off the Sky Tower, where you zip downward for 11 seconds before landing gently. I saw contestants on "The Biggest Loser" do it one season, ...
Read More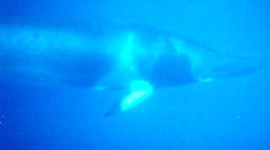 We float quietly in the water, holding onto ropes tied to the boat. One by one the whales appear, drifting up from the dark below. We're swimming with dwarf minke whales on the Great Barrier Reef.  But this is a swim with whales program with a twist. The whales themselves started ...
Read More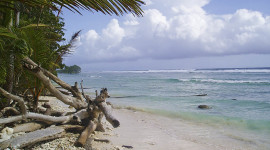 "Ohmygawd, you sleep on the floor, they cook over open fires and there are dozens of kids running around," a US friend had warned before I went to spend a night with a local family in Kosrae. "How perfect," I had replied. And it was. This was a chance to really see how ...
Read More
Australia & Oceania Facts

Main International Airports: Adelaide, Brisbane, Cairns, Darwin, Melbourne, Perth, Sydney
Currency: Australian dollar.
Population: 23,000,000
Capital: Canberra
Climate: Ranges from tropical in the north to desert in the center to temperate along the southern coasts. South of the equator.
Major Language: English
More Facts: E-visas are available for Americans entering Australia.
Time Zones: Western Australia: UTC + 8. Northern Territory and South Australia UTC + 9 1/2. Eastern Australia UTC + 10. See World Clock for seasonal adjustments.