Trips in Australia and the Pacific Islands: travels in Australia, New Zealand, Fiji, French Polynesia, Micronesia, Hawaii, and more.
Click on a red flag to find a trip | See all trips | Travel facts

Australia & Oceania: The Bucket List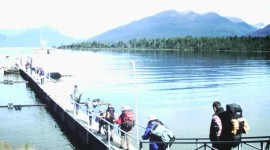 "So, you'll be tramping on the Milford Track next, then?" said the friendly clerk. We were checking out of a hotel on the sunny northern tip of the South Island with its Mediterranean climate to head down to the southern mountains and some of the wettest land on earth. "Well, I do hope ...
Read More
In terms of financial parity, I am wearing the down payment for a very nice American home around my neck. The pearls are a deep gray black, each one enormous, each glowing with a tinge of color: aubergine,  blue, green, pink, silver. Unfortunately, I have to put them back. I've been ...
Read More
Sitting on a scuba diving boat in Pacific Harbour, Fiji, intently listening to the shark dive briefing, I am concerned about the following issues: I'm going to jump into the ocean over a reef where chum consisting of fish guts and blood has been leaking out of a container for ...
Read More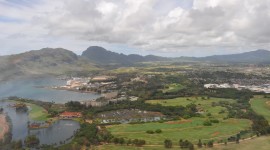 Just how beautiful is the island of Kauai when seen from a helicopter? Short answer: So beautiful that tears ran down my face as I looked out over the NaPali Coast and the long jagged fingers, locally called "palis," that plunged into the Pacific Ocean. I don't write this lightly: As ...
Read More
Australia & Oceania Facts

Main International Airports: Adelaide, Brisbane, Cairns, Darwin, Melbourne, Perth, Sydney
Currency: Australian dollar.
Population: 23,000,000
Capital: Canberra
Climate: Ranges from tropical in the north to desert in the center to temperate along the southern coasts. South of the equator.
Major Language: English
More Facts: E-visas are available for Americans entering Australia.
Time Zones: Western Australia: UTC + 8. Northern Territory and South Australia UTC + 9 1/2. Eastern Australia UTC + 10. See World Clock for seasonal adjustments.