Click on a red flag to find a trip | See all trips | Travel facts | Back to Australia & Pacific Islands

Pacific Islands: The Bucket List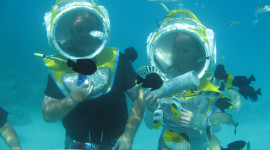 I am staring at the eighty-pound helmet that will encapsulate my head: Will it be as weightless underwater as I am told? And the stingrays are on my mind too: One killed the Australian diver and conservationist Steve Irwin. I am only partially reassured when our guide says that if ...
Read More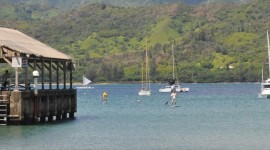 Standing up is not all that easy, just ask any infant. Or a first time stand-up paddle boarder. I can't exactly remember being an infant, but if recent history with balance-related sports is anything to go by, I have to assume I was one of those babies who had to try to ...
Read More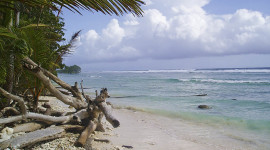 "Ohmygawd, you sleep on the floor, they cook over open fires and there are dozens of kids running around," a US friend had warned before I went to spend a night with a local family in Kosrae. "How perfect," I had replied. And it was. This was a chance to really see how ...
Read More
The International Dateline is one of those travel destinations that often eludes even the hardiest of buckettrippers.  It's out there in the middle of the Pacific Ocean, the place where today becomes tomorrow or where yesterday is really today.  Travel east and you lose a day. Travel west and you gain ...
Read More
Pacific Islands Facts

note: Hawaii is included here for cultural and geographic, not political reasons. More information for Hawai'i is found on the U.S.A. Hawaii pages.
There are about two dozen countries and dependencies in Oceania. We are including only those for which we have articles. Check back for more.  
Main International Airports: Fiji: Nandi. French Polynesia: Papeete, Tahiti.  Micronesia:  Minor international airports (Chuuk, Kosrae, and Pohnpei) offer limited service to Honolulu and Guam. Air Pacific, Air Tahiti Nui and Air New Zealand are the major carriers; there are also several much smaller airlines that do mostly inter-island routes.
Currency: Fiji: Fiji dollars. French Polynesia: CFP (French Pacific franc). Micronesia: US dollars
Population: Fiji: 868,000. French Polynesia: 274,000. Micronesia: 112,00.
Capitals: Suva, Fiji. Papeete, French Polynesia. Palikir, Micronesia
Climate: Tropical
Major Language: French in French Polynesia, Fijian and English in Fiji. English in Micronesia
More Facts: Visas are not required for Americans.
Time Zones: Fiji: UTC + 12. French Polynesia: UTC + 12. Micronesia: UTC + 11. See World Clock for details, seasonal adjustments.
* Info, links updated February, 2013.