Above and Below the Arctic and Antarctic Circles
(and some other very cold places)
Trips in Antarctica, The Arctic, Greenland, Northern Canada, Northern Alaska, Northern Russia, Northern Scandinavia.
Click on a red flag to find a trip | See all trips | Travel facts

Polar Regions: The Bucket List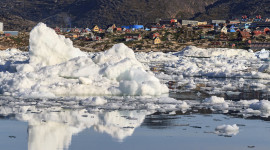 Ilulissat means "iceberg" in Greenlandic. And indeed, there are icebergs here. On a cruise that covered a good chunk of the high arctic from Canada to Greenland, this place was the standout -- but not just for the ice. First, however, a comment about that "high arctic" term. We're talking here ...
Read More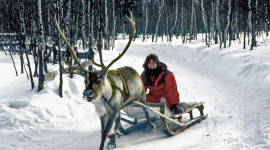 Reindeer have a bit more sense of dignity than sled dogs at the prospect of pulling a sled through the snow. They do not jump up and down in place yipping excitedly at the sight of a sled, as dogs do. I'd been dogsledding the day before, across Finland's snow-covered ...
Read More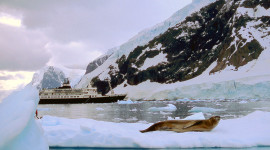 It's Valentine's Day and I'm in love. The object of my affection sidles up to me, cocks his head and regards me with a flirtatious eye. My heart melts. But hearts are fickle in Antarctica and before my 11-day cruise ends, I give mine to dozens of tuxedo-clad creatures. Penguins are ...
Read More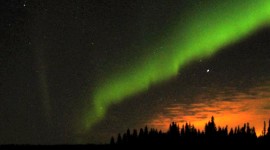 Deep in a sound sleep, I am awakened by footsteps running through the corridors outside and the urgent sound of doors slamming open. "Get up everyone! Everyone, outside!" Groggily, I look at my watch: 3 a.m. I roll over, not quite in the land of the awake. There is more urgent ...
Read More
Polar Facts

Travel Information: See individual country pages for general travel information.
Warnings: Polar travel is real adventure: Itineraries are at the mercy of the weather, and travelers could be storm bound for days. Give yourself plenty of wiggle room in flight times.
Clothing: Adhere to recommended packing lists. Specialty clothing from an outfitter such as REI or EMS will help you stay comfortable.
Environmental Issues: Some Arctic and Antarctic ships, such as those operated by Compagnie du Ponant, follow strict decontamination guidelines in order to help protect the pristine environments in which they said. Guests are expected to follow all directives.