Above and Below the Arctic and Antarctic Circles
(and some other very cold places)
Trips in Antarctica, The Arctic, Greenland, Northern Canada, Northern Alaska, Northern Russia, Northern Scandinavia.
Click on a red flag to find a trip | See all trips | Travel facts

Polar Regions: The Bucket List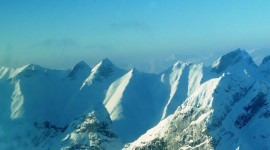 The bush plane is tiny, just two rows of seats, sized for people who like each other a lot. It's equipped with winter survival equipment, and before we take off, we get instructions on using the emergency radio and the survival gear. I know that bush plane is the way people ...
Read More
Polar Facts

Travel Information: See individual country pages for general travel information.
Warnings: Polar travel is real adventure: Itineraries are at the mercy of the weather, and travelers could be storm bound for days. Give yourself plenty of wiggle room in flight times.
Clothing: Adhere to recommended packing lists. Specialty clothing from an outfitter such as REI or EMS will help you stay comfortable.
Environmental Issues: Some Arctic and Antarctic ships, such as those operated by Compagnie du Ponant, follow strict decontamination guidelines in order to help protect the pristine environments in which they said. Guests are expected to follow all directives.