"How would you like," I asked my seven-year-old grandson Sam, "to go to a place that you can't get to by road?"
"I would like," he answered.
"And how would you like to go fishing in a place that has so many hungry fish that you only stop catching them because it's getting dark?"
"I would LOVE," he shouted.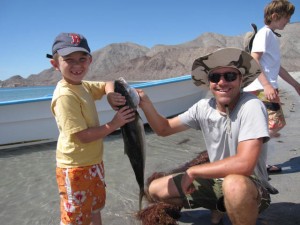 I love to go off the grid, and the only thing I don't love about fishing is having to wait while the fish decides whether he will deign to take my bait.
The Las Animas Wilderness Retreat in Baja, Mexico, is about as far off the grid as you can go, and for the first time in my life, I got tired of reeling in the fish. Sam was transfixed from the moment he arrived at this very special, sustainable resort, with no electricity or running water or Internet or phones, but with eco toilets, solar showers, and total peace.
In Your Bucket Because…

Very few Mexican resorts are off the grid, unspoiled and pure.
You can actually swim with whale sharks.
Soft adventurers and their families of all ages can enjoy this place.
No Roads, No Hotels, and No Airport
There are no roads, no hotels, no restaurants, no golf courses, no souvenir shops, no airports and no mariachi bands at Las Animas. The resort is basically a line of eight canvas and wood yurts sitting on a gorgeous lonely beach cove near the Midriff Islands in the Sea of Cortez, with a central communal palapa for meals and socializing.
To get there, you must take a six-seater plane for an hour from San Diegeo, California to San Felipe, Mexico (for a passport check), then another hour's ride in the same little plane to the fishing village of Bahia de los Angeles, and then a panga, or small open motor boat, to Las Animas, for one more dolphin-laced hour. If you drove here from San Diego, it would take 12 hours…if there were roads.
But that's part of the beauty of this place, and probably why the fishing is so good. Except for the few brave souls who sail into these waters to fish, and the residents of tiny Bahia de los Angeles, no one is fishing here except us and a whole lot of sea creatures, including the delightful whale shark, a polka dotted gentle giant who is in residence seasonally in autumn, and who doesn't mind if you swim with him. He eats tons of krill and plankton so leaves the bigger fish to us. Same thing with the gray and blue whales, ironically: These humongous mammals also prefer the tiniest fish.
We had bigger fish to fry. Even before we unpacked, we took one of the pangas out to "Yellowtail Alley," home to yellowtails so named for their neon yellow tails and fins. As soon as we dropped our lines into the water, the fish grabbed our bait and we pulled them in and dropped the line back as fast as we could, stopping only when our panga driver/fisherman said we had more than enough for dinner for the 20 of us plus the panga drivers and the two women who come over each day by panga to prepare wonderful Mexican-style meals.
Watching our driver filleting with a sharp knife as many of the fish as he could while still onboard, Sam remembered his visits to the pediatrician and joked to the fish, "Now you're just going to feel a little pinch."
Fish On The Table, In the Water, In the Boat
Every day we fished, when we could break away from swimming with sea lions or hiking with our pilot, who assumed his naturalist mantle when showing us the fauna and flora of the Sonoran Desert. Every night we ate a different kind of fish that we had caught that afternoon, prepared in inventive Mexican styles.
When Sam could force himself away from catching fish or watching the fishermen clean them for dinner, he was on the beach filling his pockets with treasures: tube snails, bones, shells and the like. John Steinbeck, who wrote about his exploration boat trips along this coast with a naturalist friend, noted that "small boys are the best collectors in the world." And for a small boy who has already declared that he wants to be an entomologist, Las Animas was critter heaven. He didn't even mind when the panga drivers warned, on settling us at the beach the first day, that we should do the "Stingray Shuffle," moving our feet along the sand to disturb the many stingrays and get them out of our way to avoid their painful stings.
There's plenty of danger here in the Sonoran wild: scorpions, for example. We even caught a scorpion fish, which is good eating, if you can clean it without being stung. Except for watching for the dangers of an unspoiled wet wilderness, the biggest danger we had was very sore arm muscles from pulling all those fish into the boats.
Practicalities
Las Animas Wilderness Retreat, Baja, Mexico, 800-221-9283, www.bajaairventures.com.
4-day trips depart from San Diego's Brown Field at 7 a.m. on Thursdays and return at 5 p.m. Sundays.
6-day trips depart 7 a.m. Mondays and return Saturdays.
Special swimming and snorkeling with whale shark tips are offered September and October. Whale watching trips run in February and March.
Wellness retreats with yoga, massage, scrubs and wraps are offered throughout the year.
Custom itineraries for groups of at least six guests are available throughout the year.