Mid-October is prime time for fall color in Shenandoah National Park in Virginia, best soaked up along its hiking trails and on a leisurely drive along the 105-mile Skyline Drive between Front Royal and Waynesboro. Fall is the finale for the national park, as visitor facilities shut down for the winter as the last of the leaves drop, and access to Skyline Drive diminishes as winter weather settles in.
With blue skies and brightly painted leaves beckoning on Columbus Day, my husband and I took a leisurely drive atop the Shenandoahs, delighted that the road wasn't too crowded and parking was only tricky at Skylands Lodge. It was a first for him, and my third trip along this meandering, 35 mph scenic parkway.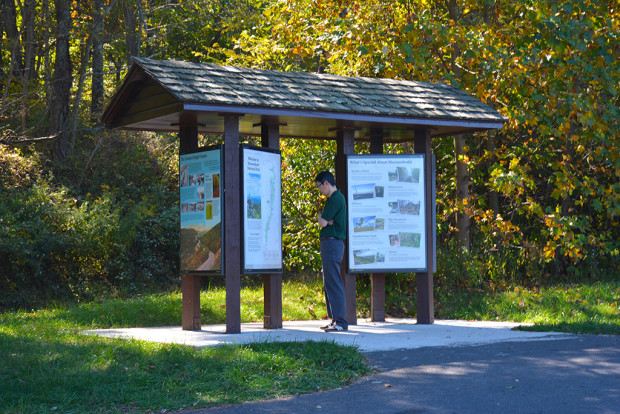 There are dozens of overlooks along Skyline Drive, and after a while you won't stop for every one. When you reach the pay station for the park – a $20 fee, good for a week – ask for a map and circle the stops you make so you'll remember them. This kiosk at Shenandoah Valley Overlook is the first posted map you'll see after entering the park at Front Royal.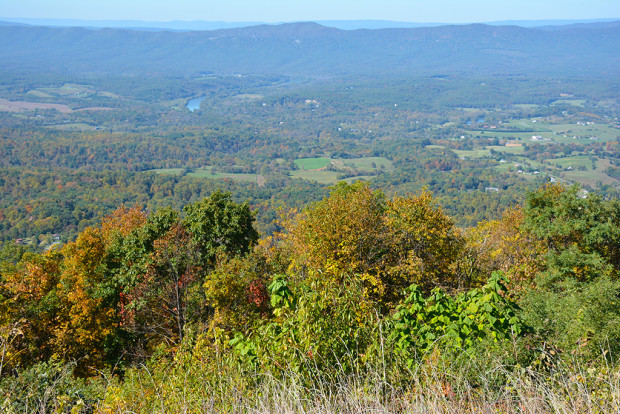 The Shenandoah Valley from Signal Knob Overlook. The Shenandoah River snakes back and forth across the valley floor.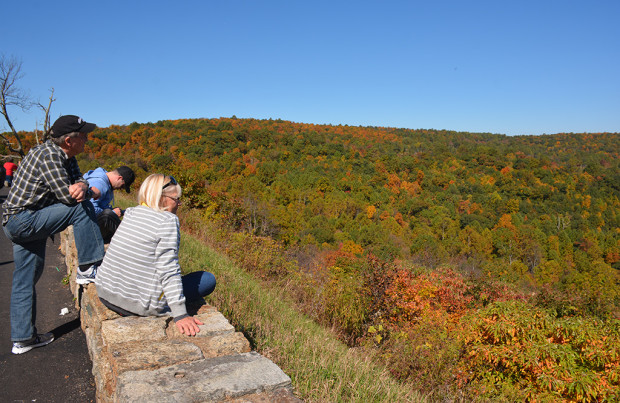 Two out of three visitors find the autumn colors at Hogwallow Flats Overlook more interesting than their smartphones.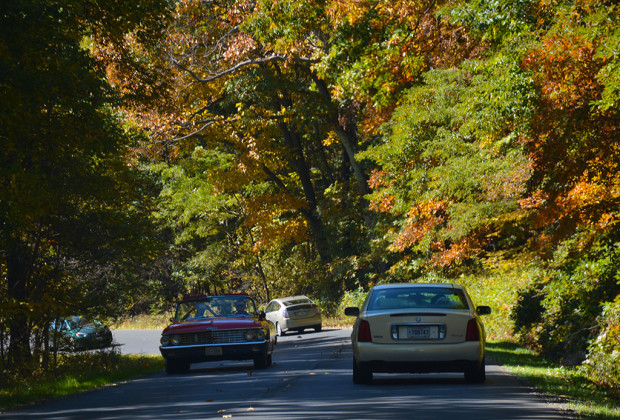 With its slow speed limit, Skyline Drive is a favorite of classic car owners who want to ease their cars out on an easy drive. This early 1960s Ford Fairlaine is a sweet ride.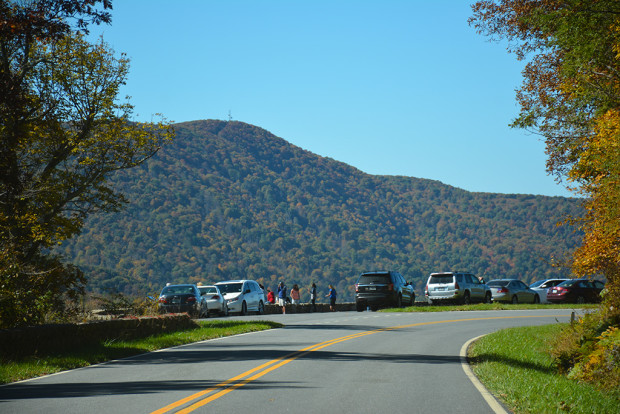 Overlooks are found on both sides of Skyline Drive, showing off prime views. We pass by Range View Overlook since it's rather full.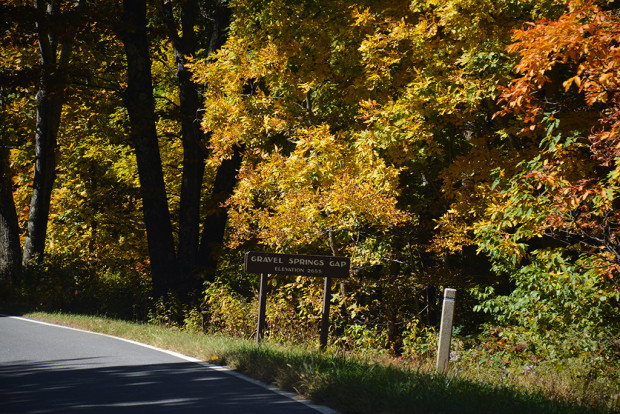 Elevation signs along Skyline Drive call out major features such as gaps and peaks.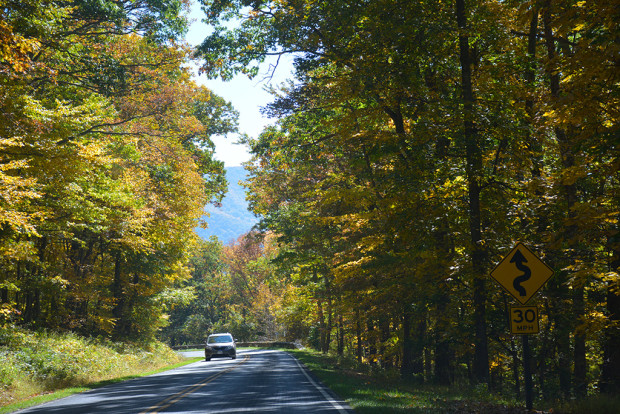 Drivers must be alert to the many curves along this mountain road, another reason for the limited speed on Skyline Drive.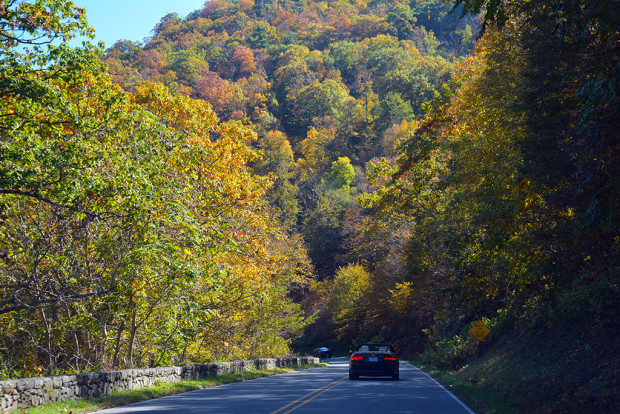 You'll see no metal guardrails on Skyline Drive. Stonework built by the Civilian Conservation Corps in the 1930s defines the more severe dropoffs along the road in an aesthetically pleasing way.
On the Appalachian Trail at Matthews Arm. The AT crisscrosses Skyline Drive dozens of times. Watch for white blazes and signage.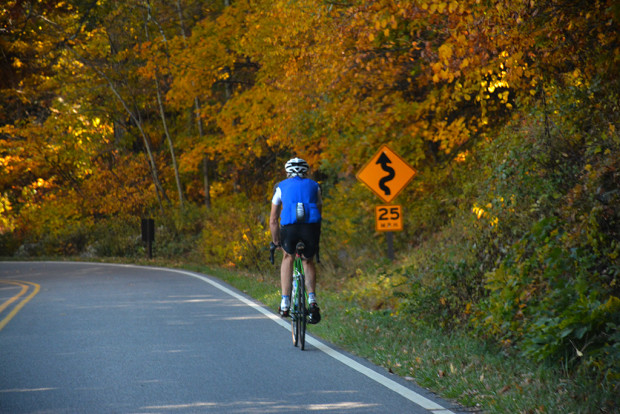 Cyclists share the road on Skyline Drive, challenged by the mountainous terrain.
Click on images for full-size photos
Well before either Skyline Drive or Shenandoah National Park existed, Skyland was a destination for middle-class travelers in the 1890s, providing a dramatic vista from the privately owned cabins and dining hall. Once the park was established, Skyland became a hub of activity, offering lodging for visitors.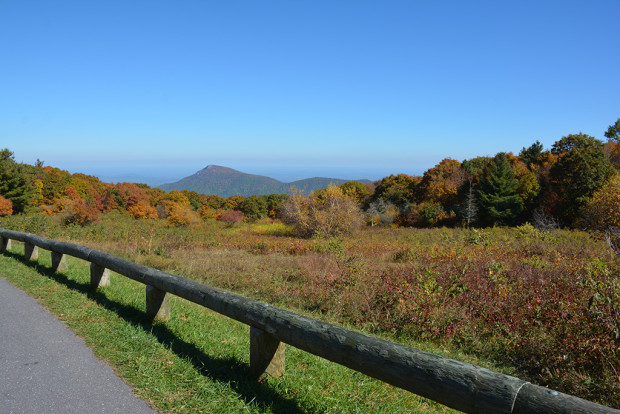 Old Rag Mountain, as seen from Skyline Drive. The hike to Old Rag is one of the more popular trails in Shenandoah National Park. There are over 500 miles of hiking trails in the park.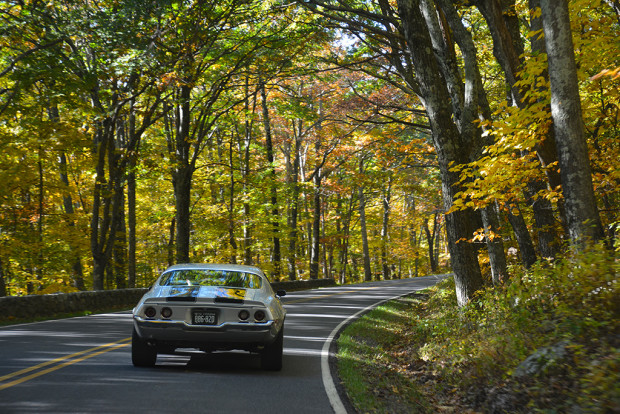 Catching up with a 1970 Camero along the drive. This one has to dial it down to keep within the 35 mph speed limit, but handles the curves like a pro.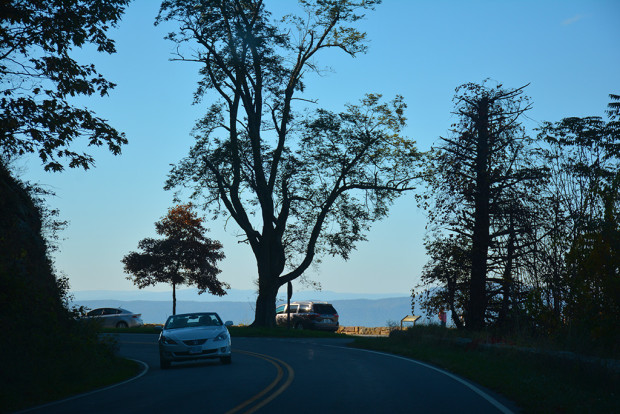 Sometimes you come around a corner and are greeted with an unexpected panorama – and a clot of traffic trying to get in and out of the overlook.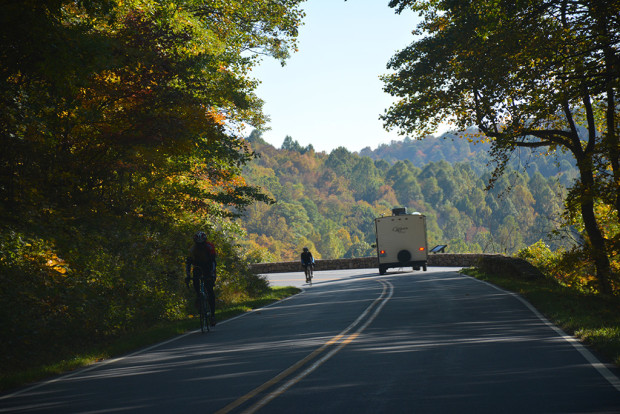 Although trucks are prohibited on Skyline Drive, you will see many campers and some truck-sized RVs. Campgrounds are at Matthews Arm, Big Meadows, Lewis Mountain, and Loft Mountain.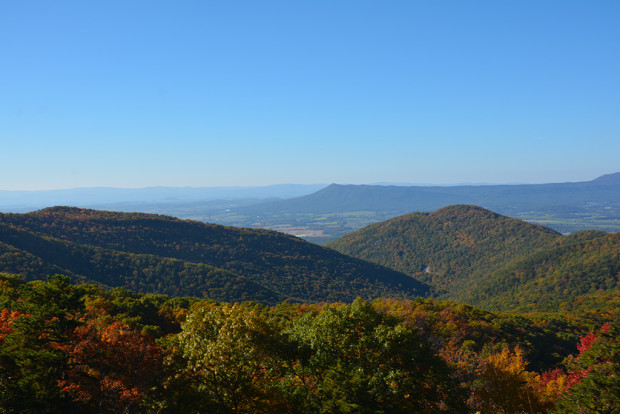 From Two Mile Run Overlook, you can see where Massanutten Mountain comes to an end at the south end of the Shenandoah Valley.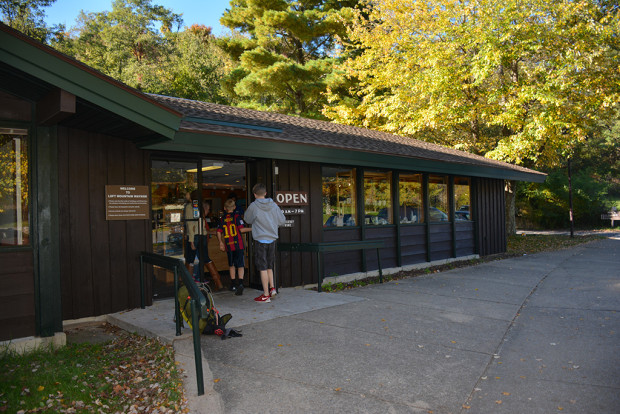 The waysides of Skyline Drive provide visitors with restrooms, restaurants, and gift shops. You'll find them at Elkwallow, Big Meadows, and Loft Mountain.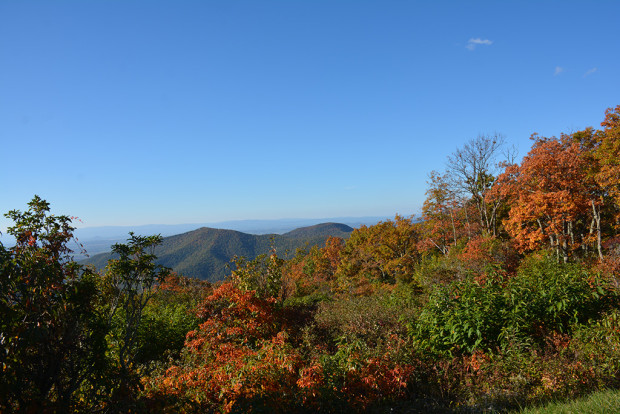 Jackson's Valley framed by fall color.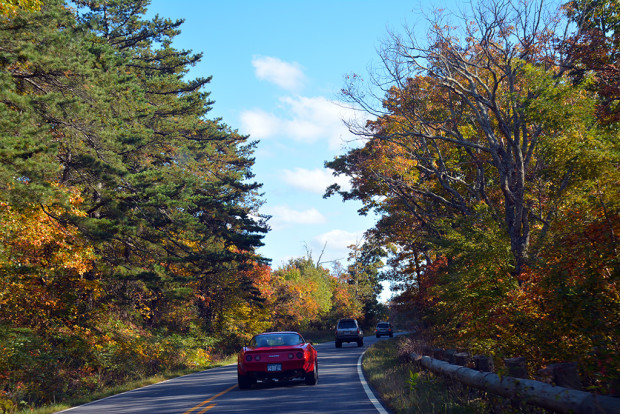 Following an early 1980s Corvette through a tunnel of autumn leaves.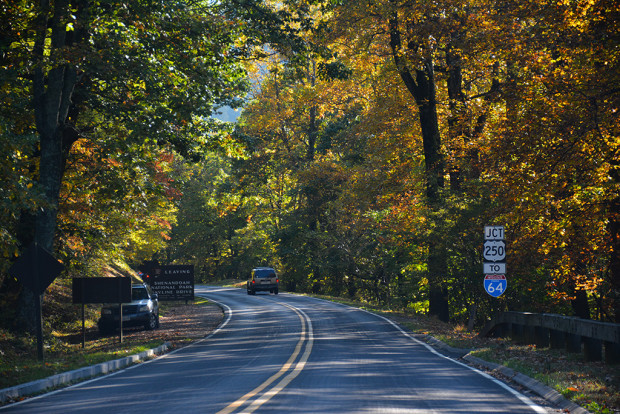 Skyline Drive ends at Rockfish Gap near Waynesboro as it meets US 250 and the beginning of the Blue Ridge Parkway, which extends another 469 miles south atop the Appalachians to Great Smoky Mountains National Park.
Learn more about Skyline Drive
Related story: AUTUMN LEAF PEEPING IN VIRGINIA'S SHENANDOAH NATIONAL PARK