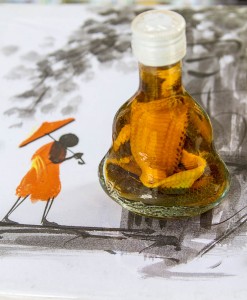 Slowly, tentatively, I dipped my feet into the fish tank sitting on the sidewalk in Siem Reap.
The fish could hardly wait … they crowded me, hungry mouths zeroing in on my toes. The "doctor fish" were at work.
OMG, did it ever tickle. Yikes. But after a minute, my sensory endings calmed down and I just sat there in the city's night market, letting them do their work.
THE Place To Go At Night
The night market here is the center, the mecca, of Cambodia's tourist scene. In other Cambodian cities, the markets are really for locals … hot, sweaty, claustrophobic places jammed with pots and pans and cheap clothing and other goods of daily life. I was beginning to think there really was nothing for a tourist to buy in this country.
But in case you have missed the point in Siem Reap, there are huge, glowing, three-foot-high neon signs hanging across the street. Like, every 50 feet or so.
The "doctor fish" are part of the scene. Along with silver shops, clothing stalls, street food. You name it.
Why here? Because Siem Reap is where Angkor Wat is located. And that is what virtually every one of Cambodia's 2.8 million visitors a year come to see.
In Your Bucket Because…

You like REALLY exotic places.

You don't mind the heat.

You enjoy meeting people from other cultures.

Best for those who like adventure.
Okay, so you've done the ruins … the main temple, the secondary temples and, of course, the place with all the tree roots made unfortunately infamous by a truly awful, based-on-a-video-game movie staring Angelina Jolie.
And now it's night. But you really don't feel like eating in the hotel. Again.
Off In a Tuk Tuk
So you pop $2 for a tuk tuk (rickshaw pulled by a motorcycle) and say, "Night Market," and the guy heads off — you swear in the wrong direction — then 10 minutes and who knows how many turns later, there you are, under all those neon signs.
Yeah, I fell for the fish thing. The fish are tiny carp, maybe an inch or two long and (it wouldn't work otherwise) toothless. They eat the dead, flaking skin off your feet without touching the rest of your flesh. Yeah, ewwwww. Yes, I know it's controversial on this side of the Pacific. The tanks aren't cleaned after every person and there's some question about what the fish would eat here if it wasn't pre-owned people skin.
But I was impressed that the woman first made sure I didn't have insect repellent or suntan lotion on my legs. And the fish, well, they were VERY appreciative. And after, my feet felt SO clean.
So, $2 gets you 20 minutes (or as long as you can take it) with the little hungry critters and also a can of beer. Cambodia seems to be one of the last places on earth where an American dollar goes the distance.
From here, we dived into the market. I was looking for a pair of lightweight pants. Something that might fit me (I'm not small) in a country where size zero is considered large. But I found them, for $7 apiece. And they look great.
Also a t-shirt, scarves, earrings and assorted other whatnot. You could, if you tried very hard, spend serious dough here. There are silver trinkets and wall hangings and paintings and furniture to die for and this quilt shop where they make bedding to order.
Mostly, the fun is to just wander and window shop.
And then eat.
Food on the street is for the somewhat adventurous. But it's all either grilled over coals or cooked to a crisp in a wok. I figure the heat is enough to kill just about anything potentially harmful.
So Much Street Food To Choose From
One night, we had stir fry. Another it was ribs. Just about everything is priced in US dollars and costs about $1.50. The exception was the whole, stuffed red snapper which fed two people and ran $6. We topped that off with a young coconut. They cut a hole, add a straw and you quench your thirst.
Finally, shopped out and fed, we hailed another tuk tuk and headed back to our hotel, where the swimming pool awaited — but with no tiny carp to clean our skin.
Practicalities
Cambodia has two seasons … wet and dry. The wet season is June – November, and is best avoided: Even when not raining, it's steamy, with temperatures above 100 degrees..

Even with an upscale group, don't expect slick organization: the country is still recovering from the Khmer Rouge days in the 1970s. You will, however, find cell phones signals.
The US dollar is the main currency. There really is no need to change large amounts of money. But make sure to bring a LOT of small bills ($1s and $5s) in perfect shape.
Resources:Cambodia Tourism and Red Lantern Journeys