I am looking at a jade bangle with the price tag of some cars, only it will last longer. "Real jade" is the strongest of all minerals.
"Jade" is simply the commercial name given to jadeite and nephrite. And if you think that it comes from China where it has been a spiritual symbol for 6,000 years, think again: Today, "Chinese jade" is mostly … Canadian.
Yes it is: Three quarters of the global demand for jade are supplied by deposits in British Columbia (B.C.). If you plan to visit Canada's westernmost province, check out this mystical gemstone.
In Victoria–the capital of B.C. on Vancouver Island–you will find jade in stores selling B.C.'s art and crafts. Don't miss Jade Victoria on Government Street, a pedestrian thoroughfare filled with shops!
In Vancouver, The Jade Vancouver store is located at a walking distance from Canada Place (the cruise ship terminal).
In Your Bucket Because…

 British Columbia is "jade" country.
Jade is an intriguing gemstone with a tactile appeal.
For discerning gift buyers, lovers of gemstone jewelry, and art collectors.
Learning about Jade
Mineralogists will tell you that what we call "jade" is either nephrite or  jadeite, two similar stones with two different chemical structures. Jade deposits in B.C. are green nephrite (the best is called Polar Jade).
Green jadeite is found in Burma/Myanmar. As a comparison, black nephrite comes from Australia, and white nephrite from Siberia. In New Zealand where the greenstone is a godly mineral for Maori people, a treaty limits its extraction. All of these facts are good news to B.C.'s jade mining industry.
What about China? You might ask. Today, most of the jade extracted in China is white, brown, or olive green. China has run out of good quality green nephrite, yet the demand is unprecedentedly high due to two reasons. The young middle class has rediscovered jade as a fashion statement. Investors seek a reliable saving haven. The price of jade in China is 10,000 times what it was thirty years ago, and still rising. If you ever needed a reason to buy jade in B.C., this is it.
In your travels, be aware that all that is green is not jade: garnet jade is green garnet not jade. B.C. jade is dark green, lustrous, and smooth as glass. Jade being the province's official gemstone, it's unlikely that you would be sold fake jade. Furthermore, Jade West (the largest global supplier of green nephrite) warehouses its rough boulders in Vancouver.
Note that Canadian jade is never chemically treated. Canadian quality rating is as follows:
 AA – very best (Polar Jade)
    A – high
    B – for carving
    C – for tiles
From Jewelry to Home Accessories
Prices for jade bangles, favored by Chinese women as a symbol of protection, vary from $200 to more than $10,000. A jade bead bracelet costs less: from $100. Pendants in sculpted or smooth modern designs start at $60 (with a stainless steel chain; more for silver and gold). Earrings with sterling silver sell for $30 and up, and from $200 with 14K gold. Rings: $10 for a single narrow band, $200 and up when mounted in 14K gold. Cufflinks set in stainless steel: $60.
If you like green, consider a jade-tiled bathroom, or settle for a towel bar ($350), a soap dish ($50), hardware components such as single switch plates ($70), or drawer pulls ($20).
Jade Collectibles and Souvenirs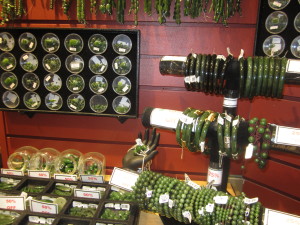 Small sculptures remain affordable trinkets:  The jade is from B.C., but is usually carved in China. Prices are still a matter of size and quality, and are moderate in souvenir shops.
Bear carvings are best-selling mementos:  A 1.5-inch bear sells for $30 whereas a larger one, with a fish in its mouth, and fitted on a marble or granite base, sells for $250. If you are into animals: a rearing or  prancing horses sells for $70.
Novelty items include a desk clock ($70), four golf tees in a wood box ($50), a cribbage board ($120). Don't overlook gifts such as Christmas ornaments ($50), buttons ($8 each), key chains ($5 and up), animal bottle stoppers ($15)! Canes with a choice of handles start at $75, and are said to have a soothing effect.
Oriental style carvings appropriately reflect the associations of jade and the Far East, as well as B.C.'s multi-cultural communities: $300 for a 3-inch high Buddha sculpture, $175 for a wire-wrapped jade tree, $500 for a detailed good fortune screen on a wood stand.
Nephrite Jade Sculptures for Art Collectors
Collector or not, you will find extraordinary green nephrite sculptures in art galleries. If you plan to have High Tea at the legendary Empress Hotel in Victoria, the Art of Man Gallery (next door) showcases jade sculptures. With names evoking story titles, they speak for themselves.
Thousands of years ago, jade was used for tools. Today special tools are used to carve jade into jewelry and into art, which magnifies its visible qualities and mysterious properties.
Practicalities
Jade Victoria on Government street on Vancouver Island specializes in jewelry and souvenirs.
Jade Vancouver on Water Street sells moderately priced jade jewelry and carvings as well as pricey pieces for collectors. You can also shop online.
Both stores are owned by Jade West, the largest jade mining company in B.C.
Only experts can identify real jade. Always ask for the certificate of authenticity.
You can buy jade at Vancouver airport, at the DFS store at the Canada/USA border, at gift shops on ferries, at the Hudson Bay department store.
This is how jade is extracted in Northern B.C. (scroll down after you link)