Trips in Argentina, Bolivia, Brazil, Chile, Colombia, Ecuador, French Guiana, Guyana, Paraguay, Peru, Suriname, Uruguay, and Venezuela.
Click on a red flag to find a trip | See all trips

South America: The Bucket List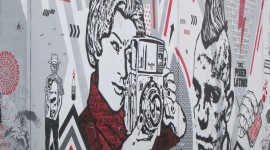 When we reached the end of the tour, I was already thoroughly impressed. And then we rounded the corner to discover four massive graffiti murals that just sung of revolution, of angst-y political statement and dissatisfaction. They were commissioned pieces from the some of the top artists around Bogota, and ...
Read More
I read some facts and figures that simply boggled my mind: The construction of the Itaipu Dam, for which 50 million tons of rock were moved, took 16 years [1975-1991]. The dam is 643 feet high and almost 5 miles long. The plant has 20 generators, which altogether have a ...
Read More
I pick up the thermos and fill up the gourd with mate, a popular herbal tea in Uruguay. It's a drink you share with others, so I hand the gourd to my partner Coen, who takes one last photograph before he sits down next to me. We're sitting on a low ...
Read More
It all started with a photo: a beautiful photograph of an old wooden altar featuring an angel killing a devil, painted in blue tinges. Some of the paint had chipped off and the wood was damaged, and it was clearly a piece from colonial times. The accompanying text told me ...
Read More