Trips in Argentina, Bolivia, Brazil, Chile, Colombia, Ecuador, French Guiana, Guyana, Paraguay, Peru, Suriname, Uruguay, and Venezuela.
Click on a red flag to find a trip | See all trips

South America: The Bucket List
"The defeat of all defeats," the Brazilian headlines recently cried after Brazil's devastating loss against Germany in the World Cup 2014. Losing 7 to 1 on your own territory in the semi finals is a major crushing indeed. For the second time Brazil organized the World Cup, and for the ...
Read More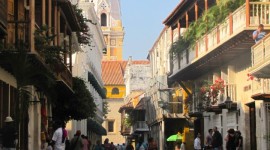 Having traveled quite a bit in Central America, with some unfortunate soirees in the rather gruesome metropolises, the first surprise I got from Cartagena was that people — droves of people — were still out on the streets at night. My flight had touched down after dark, approaching nine o'clock, ...
Read More