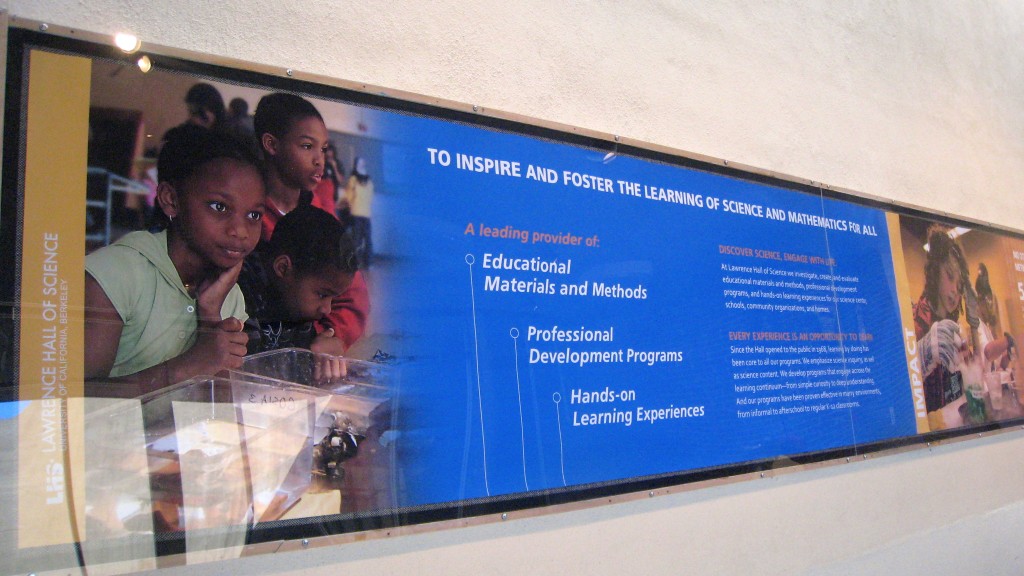 Watching a turtle chomping on a strawberry is a far cry from inventing the idea of a cyclotron smashing particles. But they are both aspects of science, and as such, have a place at the Lawrence Hall of Science in Berkeley, California, located in the hills east of San Francisco. The point is to let children discover that science is all around them and that it can be fun. Proof? At this science center, even skateboarding is about physics.
The Lawrence Hall of Science at the University of California, Berkeley
Staffed with engaging university students, the Lawrence Hall of Science offers an entertaining destination for children through educational materials that help them think like scientists. Here, they can observe the power of velocity and gravity, test their visionary and building skills with the 20,000 building blocks at their disposal. See them play with water flow as they get introduced to hydrology. Yes, children are natural little scientists: They want to know why things are the way they are, or do what they do. Children learn best by doing.
To young children, the fact that this very building was the cradle of nuclear physics doesn't matter. The focus of these programs is to plant the seeds of science in their inquisitive minds. Who knows? One of the children playing on Pheena the Fin Whale might grow up to become a scientist who will take nuclear medicine to a new frontier. But for now, witnessing a vinyl ball being blown away in an air tunnel, or using an air cannon to understand that air has mass, are more fathomable facts than learning about an exponentially powerful accelerator for subatomic particles–a concept that Lawrence started to develop here more than 80 years ago.
In Your Bucket Because…

"Education is a natural process spontaneously carried out by the human individual and is acquired not by listening to words but by experiences in the environment." (Maria Montessori).
You will enjoy amazing vista of the San Francisco Bay from the plaza or the lawn.
For anyone who enjoys rediscovering the wonder of science through the eyes of children.
Choose an Exhibit or An Adventure 
When I take my six and four year-old grandchildren to the Hall, I let them go back to their favorite activities until they are ready to explore new ones. But if you are visiting the San Francisco Bay Area for a limited time, grab a guide at the Visitor Services's desk and check the schedule for special exhibits and events.
Older children (and adults) might head to the 3-D Theatre to watch Space Junk, a documentary about orbiting debris, or The Ultimate Wave Tahiti, which explores the hidden forces that power surfing. For younger children, the Planetarium opens a universe of marvels with A Sky Full of Stars (ages 4 and up), Constellation Tonight (ages 6 and up), and Northern Lights (Ages 8 and up).
When time comes to get fresh air, outdoor activities will keep children going. You'll find mechanical structures that show earth movements during earthquakes, water percolation basins, a telescope, climbing elements, and a lawn for resting their not-so-tired little feet — unlike yours — after so much exploration.
About Ernest O. Lawrence
Located above the city of Berkeley, the Hall is indeed the original building where physicist and 1939 Nobel Prize winner Ernest O. Lawrence created the first cyclotron, a circular device for accelerating subatomic particles.
As I look at the commemorative display of the Lawrence Memorial, I see evidence that simple ideas lead to complicated discoveries: A vial fitted with wires and metal plates were the precursors to the immensely complex facility (where Lawrence would eventually do research) that is the European Center for Nuclear Research in Geneva, Switzerland; there, physics is being pushed to recreate the Big Bang in an attempt to explain the origin of life on Earth.
 Practicalities
The two-lane scenic road from the East Bay to the Hall offers a panorama of  San Francisco, the Bay Bridge, the Golden Gate Bridge and Alcatraz Island.
Parking is reasonably priced ($4 for 3 hrs.) There is a cafeteria in the Hall with long tables where you can eat your own packed food if space allows. A few picnic tables are available outside.
The Hall offers camps, classes, seasonal events and birthday parties.
Admission fees and more.