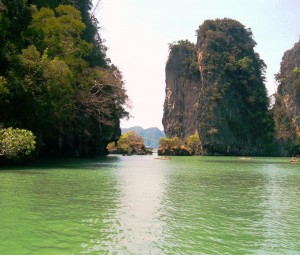 The limestone juts straight up into the sky, precipitous as a Manhattan skyscraper and just as tall. If you want a mental image, think of James Bond and "The Man with the Golden Gun."  That cliff you remember, the one that soars out of the sea? That's just one of the karst limestone islands that dot Phang Nga Bay, making this one of the only spots in the world to have this skyscraper-in-the-sea topography.
Phang Nga Bay can be reached from several marinas from Phuket, Krabi, or Phang Nga. Krabi and Phang Nga are both closer to the Bay, but, like the majority of tourists who visit southern Thailand, I was staying in Phuket, whose beaches make this island one of Thailand's top tourist destinations.  From Phuket's Royal Marina, it's about an hour to the Bay via speedboat. Pluses and minuses here: Speedboats are fast, but they are also bumpy and noisy. From Phuket, however, it's probably the best way to go because you want to get to the Bay and maximize your gawking time there (and gawk you will).
In Your Bucket Because…

This unusual marine landscape is one of the only examples of its kind in the world.
James Bond Island? How cool is that?
Good for adventurers, and families with lots of different interests: paddling, snorkeling, wildlife viewing, and exploring an unusual floating village.
Also, the smaller group size is a definite advantage. Once you've reached Phang Nga Bay, the boats slow down so you can drift past the islands, where you might trade stares with crab-eating macaques and monitor lizards and white-bellied sea eagles.  And the speedboats are small enough to pass under the cliffs and into the caves.
Koh Panyi (Sea Gypsy) Island and James Bond (Koh Ping-gan) Island
Once in the bay, we meandered along, exploring one cliff and then the next, some with wildlife, others with stalagmites and stalactites, a few with colorful kayakers who enlivened our photos as they explored the cliffs.
The islands vary in size from little more than specks of rock to giant towers. Some are mushroom shaped, some tower-shaped, and others are irregularly amorphous.
The two must-see spots are so-called "James Bond" and "Sea Gypsy" Islands. You'll know James Bond Island when you see it; the famous silhouette of  Koh Ping-gan rises straight from sea to sky. James Bond didn't have the option of buying trinkets from the vendors occupying a thin sliver of beach, but if you visit, you most certainly will. The island is one of a group of karst limestone islands cliffs grouped closely together, many of which have caves eroded by the ocean waters.
Sea Gypsy Island (Koh Panyi) is a floating village that seems to have only the most tenacious attachment to dry land. Koh Panyi was originally a traditional fishing village settlement of Thai Muslims, who migrated here from Indonesia.
The village is almost entirely built on stilts above the high water level. While fishing is still an important part of the local economy, as evidenced by the fish traps laid out by the main pier, tourism is now another linch-pin.
We wandered on tenuous wooden gangways, past narrow canals than ran between the houses. On every block, it seemed, there were bird cages filled with song birds for sale; for me and other tourists, more practical souvenirs run along the lines of fabrics, wood carvings, and beads. Food and very simple lodgings are available; if you stay over, you'll find that the vibe completely changes as the tour boats leave and the tourist shops all close.
Snorkeling and Diving
There's enough sightseeing in Phang Nga Bay to take up an entire day, so don't try to fold in serious snorkeling or diving. For those, you're best off arranging a separate excursion through specialized dive shops. Snorkeling is available on islands close to Phuket, and many of the charter boats stop for a bit of beach sitting and swimming when returning from the Bay.
I found the beach stops tourist-trappy and crowded, and the snorkeling was disappointing.  Some of the reefs were seriously damaged during 2004 tsunami and  haven't yet recovered. The few reef fish that hang out there seem to come mainly for the bread offered by guides hoping to drum up some underwater action. If you're hoping to get a taste of Thailand's world famous coral reefs, Phi Phi Islands, about 50 kilometers away by boat, is the best choice.
Practicalities
Longboat trips are also available. These vessels are built in the traditional style, long narrow boats that hug the water (but are equipped with motors). Also available are cruises on larger pleasure-style boats big enough to carry groups of 20, 30 or more, along with enough kayaks or rafts for everyone to explore the caves that were formed by water erosion around and under the bases of the pinnacles. On these large boats, guides do the actual rowing because of ocean currents that can trap the unwary in the caves with rising tides. If you're interested in a trip where guests get to paddle for themselves, sign on with a specialty kayak operation.
Other available activities folded into Phang Nga's water adventure trips can include birdwatching and even rock-climbing. Whichever option you choose, bring a camera, a bathing suit, sunscreen, water, and sea motion-sickness pills. With your comfort assured, you'll have plenty of time to gape at and enjoy what is truly one of the world's unique seascapes.