Launched in 1994, the Global Strategy for a Representative, Balanced and Credible World Heritage List reflects the world's cultural and natural diversity. World Heritage Sites are chosen based on their outstanding universal value.
It is BucketTripper's goal to have our writers collectively visit all 1007 World Heritage Sites (or as many as are safe for travelers) — and to give you a close, personal account of what it's like to experience these exceptional destinations. To see how we're doing, check out the stories, below.
Click on a red flag to find a UNESCO destination | See all destinations | Biospshere Reserves | World Heritage Sites

UNESCO Sites: The Bucket List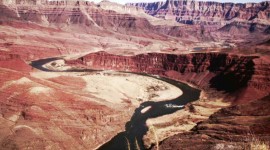 The Grand Canyon, Rim-to-Rim. 21-ish  miles, 5000 feet down from the South Rim then another 6,000 up the North; that's more than a vertical mile. If you're like most people, you'll only realize what that means when you're at the bottom looking back up. So the first piece of advice I ...
Read More