From the white sand beaches of the Gulf of Mexico to the rocky outcrops of the Washington coast, the United States offers incredible natural and cultural diversity, and is a top worldwide destination thanks to its stunning National Parks. Immerse yourself in a bit of Americana – discover the USA.
Click on a red flag to find a trip | See all trips | Travel Facts
Search by State | Search by Territory | Back to North America

Trips by State
Alabama. Alaska. Arizona. Arkansas. California. Colorado. Connecticut. Delaware. Florida. Georgia. Hawaii. Idaho. Illinois. Indiana. Iowa. Kansas. Kentucky. Louisiana. Maine. Maryland. Massachusetts. Michigan. Minnesota. Mississippi. Missouri. Montana. Nebraska. Nevada. New Hampshire. New Jersey . New Mexico. New York. North Carolina. North Dakota. Ohio. Oklahoma. Oregon. Pennsylvania. Rhode Island. South Carolina. South Dakota. Tennessee. Texas. Utah. Vermont. Virginia. Washington. Washington D.C. West Virginia. Wisconsin. Wyoming.
Trips by Territory
Puerto Rico. Solomon Islands. US Virgin Islands.
---
United States: The Bucket List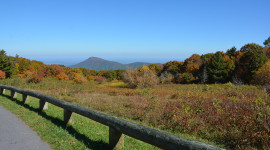 Mid-October is prime time for fall color in Shenandoah National Park in Virginia, best soaked up along its hiking trails and on a leisurely drive along the 105-mile Skyline Drive between Front Royal and Waynesboro. Fall is the finale for the national park, as visitor facilities shut down for the ...
Read More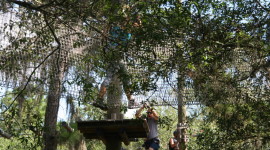 That moment when you realize you will be hooking up your own harness hardware (sans supervision) to the 650-foot TreeUmphant! zip line that is the grand finale to the new aerial base camp experience outside of Bradenton, Florida. Or when you realize that despite all training, you are coming into ...
Read More
When you step off the ferryboat on Mackinac Island, a wave of aromas competes for your attention. First, the horses. Make no mistake about it, since Mackinac Island, Michigan, is the only place in America that banned automobiles from its community, the horse-drawn wagons are everywhere, and so are the ...
Read More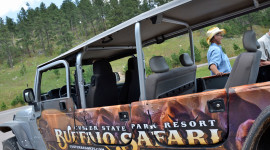 Custer State Park is big - 71,000 acres big. And, it's beautiful which is probably why it became a backdrop for films like "A Man Called Horse" and "Dances With Wolves." Winding roads pass lakes, lodges and lots of animals like bison and pronghorn antelope - which have horns like ...
Read More
United States: Travel Facts
coming soon