Trips in the Alaskan Arctic, Alaska South Coast, Anchorage, Central Alaska, and Fairbanks.
Click on a red flag to find a trip | See all trips | Travel facts | Back to United States

Alaska: The Bucket List
"Look there, in the top of that tree," our raft guide whispered, pointing to a massive cottonwood tree near the river's edge. Eight bodies in the raft with me turned and squinted, followed almost immediately by emitting a series of ooohs and aaaahs. The target of our vision quest was just ...
Read More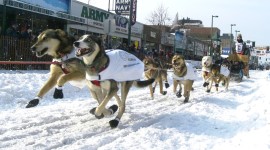 Superlatives lose their meaning in Alaska. So it only seems fitting that the Iditarod, called "the toughest race on earth," should take place in the state with North America's highest peak, largest expanses of wilderness, biggest uninhabited forests, most expansive vistas of frozen tundra, and iciest seas. In Your Bucket Because... ...
Read More
I'm no stranger to ice and snow. I've lived all my life in the Upper Midwest. But walking up a 60-degree slope of sheer ice? Well, that's just something we don't do in Michigan. Yet here I was, strapping crampons on my feet and making my way nervously up an ice ...
Read More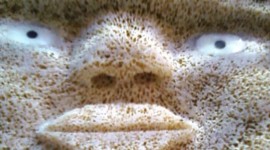 What I find myself doing in Alaska is looking for words: big, superlative words: Words for snowier, and larger, and colder, and more infinite (which by definition can't exist, but I find myself needing a word for it, anyway). Everything is bigger here, from the salmon to the grizzly bears ...
Read More
Alaska: Travel Facts
Main International Airport: Anchorage. A few Mainland flights (mostly to Seattle) also are accommodated in Juneau. Juneau, Fairbanks, and Ketchikam are designated as international airports, but have extremely limited schedules.
Currency: U.S. dollars.
Population: 722,000.
Capitals: Juneau is the state capital.
Climate: Temperate rainforest on the southwest coast. Moderate northern maritime climate in Anchorage region. Arctic climate farther north.
Languages: English. Some native American languages are spoken in some native American communities.
More facts: U.S. immigration and tourism visas are explained by the U.S. Department of State.
Time zone: Standard time for Alaska is UTC – 9. See World Clock for seasonal adjustments.