Trips in the Big Bend, Central Florida, Disney & the Theme Parks, East Coast, West Coast, Northwest Florida (The Panhandle), and South Florida (including the Florida Keys).
Click on a red flag to find a trip | See all trips | Travel facts | Back to the United States

Florida: The Bucket List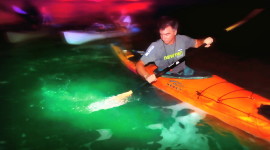 The hulking, witchy-armed mangroves engulfed me in such solitude and deep darkness that I had the fleeting thought I should be apprehensive  -- out there in a solo kayak in the middle of the night with no one else in sight. But the magical liquid light show around me immersed ...
Read More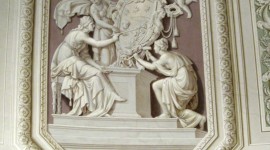 Sexy flamenco paintings, heavy-mail fixtures, bursts of burnt orange and fine leather furnishings decorate the rooms and public areas of the newest hotel on St. Pete Beach, Hotel Zamora. Miami-based Cuba-Fernandez Design orchestrated the $20 million transformation from demolition site to Spanish hacienda, which debuted June 13, 2014. It's top ...
Read More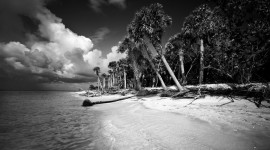 Mickey Mouse ears and crates of oranges: That is so last century when it comes to shopping for souvenirs that truly say "Florida." Harry Potter is the new Mickey Mouse, and key lime products are much trendier in the citrus department. In Your Bucket Because... You don't need another pink flamingo ...
Read More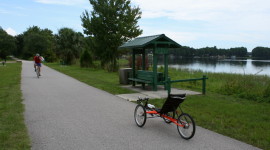 One minute I was looking for gators from the sandy shore of Lake Holathlikaha; 20 minutes later I was browsing through framed photographs and paintings and sculptures by some of Florida's most talented artists. Scenic Withlacoochee State Trail, one of Florida's longest rails-to-trails paved pathways, skirts the Withlacoochee State Forest and passes through ...
Read More
Florida: Travel Facts
Main International Airports: Miami and Orlando. Other major airports: Fort Lauderdale, Jacksonville, Fort Myers, Tampa, West Palm Beach, Pensacola, Panama City Beach.
Currency: U.S. dollars.
Population: 19,000,000.
Capital: Tallahassee.
Climate: Appalachian to subtropical, from northwest to south. Always humid in the peninsula.
Languages: English. Spanish is widely spoken in Miami, Orlando, and other metropolitan areas.
More facts: U.S. immigration and tourism visas are explained by the U.S. Department of State.
Time zone: Standard time for Florida UTC – 5. See World Clock for seasonal adjustments.