The Hawaiian islands include Kauai, Molokai, Lanai, Maui, Oahu, and Hawaii (Big Island)
Click on a red flag to find a trip | See all trips | Travel facts | Back to the United States

Hawaii The Bucket List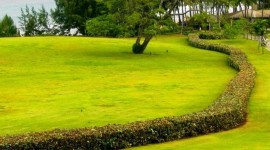 First, there is the chanting, accompanied by shouts and drumming and the sharp slap of a walking staff against the floor. Then a procession of native Hawaiians, dressed in traditional clothing and garlanded with leis of greenery, enters the marble entry way. One at a time, they chant a genealogy ...
Read More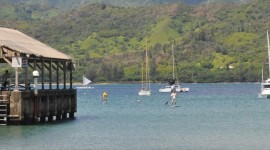 Standing up is not all that easy, just ask any infant. Or a first time stand-up paddle boarder. I can't exactly remember being an infant, but if recent history with balance-related sports is anything to go by, I have to assume I was one of those babies who had to try to ...
Read More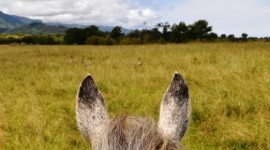 I am riding a horse in the land of a dragon. One slumbering dragon, by the name of Puff. You know, the guy from the land of Hanalei? Had a friend named Jackie? It's a real place, by the way, on the island of Kaua'i: a funky town with cool little shops ...
Read More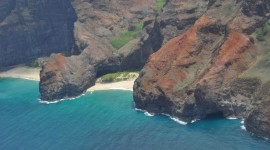 It's not often that the captain of a tourist catamaran is rendered speechless by what he sees in the course of a daily tour, but I'm here to tell you: A pod of approximately 750 spinner dolphins (his estimate, not mine) will do it. Followed by another 250, give or ...
Read More
Hawaii Facts

Main International Airport: Oahu. U.S. Mainland flights also are accommodated in Kauai, Maui, and Hawaii. Limited international flights (Canadian) out of Kona (Big Island).
Currency: U.S. dollars.
Population: 1,400,000.
Capitals: Oahu is the state capital.
Climate: Tropical. Rainy interiors.
Languages: English. Hawaiian is spoken by some of the native Hawaiian population.
More facts: U.S. immigration and tourism visas are explained by the U.S. Department of State. Import and export of certain agricultural products is closely controlled.
Time zone: Standard time for all of Hawaii is UTC – 10.