Trips in the White Mountains (NH), Cape Cod (MA), Boston and Coast (MA), Berkshires (MA), Green Mountains (VT), Connecticut Coast, Maine Coast, Maine Mountains, and Rhode Island.
Click on a red flag to find a trip | See all trips | Travel facts | Back to the United States

New England: The Bucket List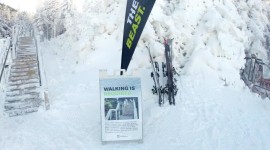 Sometimes it's the ritual that matters. Vermont's Killington Ski Area is one of the East's iconic ski areas, and it makes a point of having the longest season in the East, as well as being among the first, if not THE first, to open every year. To be honest, that first day ...
Read More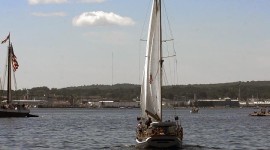 My husband Tim is a sailing ship nut who could happily spend day after day standing on a swaying deck watching the sails billow and the shore slide past. Born a century earlier, he might have run away to sea as a cabin boy. But would 12-year-old Mary and I ...
Read More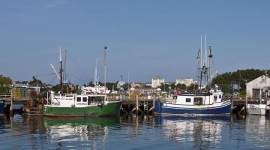 We northerners tend to think of slavery as an institution peculiar to southern history, not to our own. But in fact, it was not at all uncommon for New Englanders to hold slaves. After all, New England ports -- including Portsmouth -- were the northern point of the infamous "Triangle ...
Read More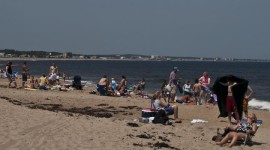 Has the merry-go-round at Old Orchard Beach shrunk? I'm sure the horses used to be bigger, so tall that my father had to boost me up to mount them. Apart from the size of the carousel, it's just like I remember, though – maybe cleaner and not quite so tacky, ...
Read More
New England: Travel Facts
Main International Airport: Boston. Other airports: Bradley (Hartford/Springfield), Manchester-Boston (NH), Burlington (VT), Bangor (ME).
Currency: U.S. dollars.
Population: 14,400,000.
Capitals: Boston, Massachusetts. Hartford, Connecticut. Montpelier, Vermont. Augusta, Maine. Providence, Rhode Island. Concord, New Hampshire.
Climate: Northern temperate. Increasingly long and snowy winters as you go north and/or gain elevation . Temperate summers.
Languages: English. French is spoken in some pockets near the Quebec border.
More facts: U.S. immigration and tourism visas are explained by the U.S. Department of State.
Time zone: Standard time for New England = UTC – 5. See World Clock for seasonal adjustments.