Trips in the White Mountains (NH), Cape Cod (MA), Boston and Coast (MA), Berkshires (MA), Green Mountains (VT), Connecticut Coast, Maine Coast, Maine Mountains, and Rhode Island.
Click on a red flag to find a trip | See all trips | Travel facts | Back to the United States

New England: The Bucket List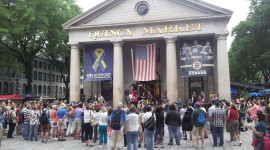 It's a cool, sunlit morning in Boston, one of those picture-perfect days you hope for when exploring a city. I pass the flower-studded site of the Boston Marathon bombing -- a sobering reminder of what happened here earlier this year. Boston is one of my favorite cities and although I've been ...
Read More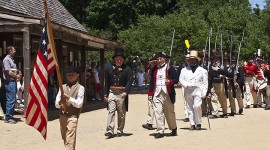 The picnic basket listed heavily to one side as the two little girls of different ages tried to carry it between them. They set it down frequently on the gravel path that leads to the grassy common in the center of Old Sturbridge Village. I could only imagine the damage ...
Read More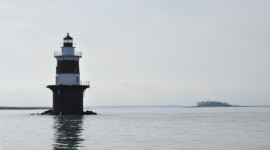 "Whose idea was this?" I demand. There is an inch of snow on the ground, the temperature is in the teens, the weather forecast is for more snow, and the living room floor is covered with ski clothes, hats, socks, gloves, long underwear and anything else my sister can think ...
Read More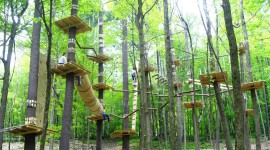 As a travel writer, I frequently roam across the globe, but this time, my destination is walking distance from my house: a quarter mile, as the crow flies. I live on the side of the Catamount Ski Area on the border of Massachusetts and New York. A couple of years ...
Read More
New England: Travel Facts
Main International Airport: Boston. Other airports: Bradley (Hartford/Springfield), Manchester-Boston (NH), Burlington (VT), Bangor (ME).
Currency: U.S. dollars.
Population: 14,400,000.
Capitals: Boston, Massachusetts. Hartford, Connecticut. Montpelier, Vermont. Augusta, Maine. Providence, Rhode Island. Concord, New Hampshire.
Climate: Northern temperate. Increasingly long and snowy winters as you go north and/or gain elevation . Temperate summers.
Languages: English. French is spoken in some pockets near the Quebec border.
More facts: U.S. immigration and tourism visas are explained by the U.S. Department of State.
Time zone: Standard time for New England = UTC – 5. See World Clock for seasonal adjustments.