Trips in the White Mountains (NH), Cape Cod (MA), Boston and Coast (MA), Berkshires (MA), Green Mountains (VT), Connecticut Coast, Maine Coast, Maine Mountains, and Rhode Island.
Click on a red flag to find a trip | See all trips | Travel facts | Back to the United States

New England: The Bucket List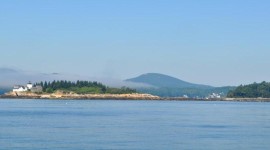 I am sitting on Warren Island in Maine's Penobscot Bay, watching a mountain of lobsters redden on an open fire. Bob Tassi -- ship captain, Grammy-award winning recording engineer, and musician -- is playing songs written by his grandfather on the accordion. In the protected waters to the east of ...
Read More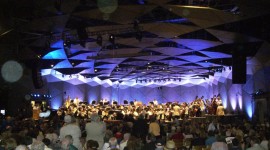 In some ways, it's a perfectly ordinary night at Tanglewood: We've got a picnic and a blanket and a bottle of wine, and so does everyone around us. The sky is a flawless summer blue, the lawn is a deep, well-tended summer green. But the 250-acre grounds situated just past ...
Read More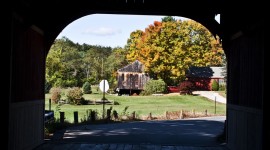 Suspended in a cloud of red, orange and yellow foliage, a covered bridge -- the most cherished of New England icons – becomes a metaphor for everything autumn.  A covered bridge tour ranks right up there with apple picking and pumpkin carving as a seasonal rite. In Your Bucket Because... Nothing ...
Read More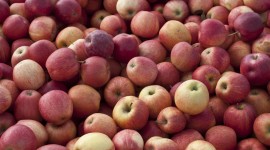 Each fall, two powerful urges draw me to drive along the broad fertile valley where the Connecticut River separates my native New Hampshire from neighboring Vermont. The first is to satisfy my soul with valley views brilliantly painted in fall colors. The second is more practical, but equally soul-satisfying: to ...
Read More
New England: Travel Facts
Main International Airport: Boston. Other airports: Bradley (Hartford/Springfield), Manchester-Boston (NH), Burlington (VT), Bangor (ME).
Currency: U.S. dollars.
Population: 14,400,000.
Capitals: Boston, Massachusetts. Hartford, Connecticut. Montpelier, Vermont. Augusta, Maine. Providence, Rhode Island. Concord, New Hampshire.
Climate: Northern temperate. Increasingly long and snowy winters as you go north and/or gain elevation . Temperate summers.
Languages: English. French is spoken in some pockets near the Quebec border.
More facts: U.S. immigration and tourism visas are explained by the U.S. Department of State.
Time zone: Standard time for New England = UTC – 5. See World Clock for seasonal adjustments.