Trips in the White Mountains (NH), Cape Cod (MA), Boston and Coast (MA), Berkshires (MA), Green Mountains (VT), Connecticut Coast, Maine Coast, Maine Mountains, and Rhode Island.
Click on a red flag to find a trip | See all trips | Travel facts | Back to the United States

New England: The Bucket List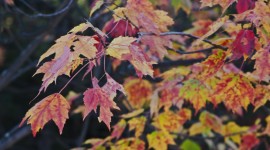 New Hampshire's Kancamagus Highway is scarcely a highway, but it's not a secret back road, either. This 42-mile route over the spine of the White Mountains is open year round, but it is at its best when the maples alongside it have turned red and orange, and the birches are ...
Read More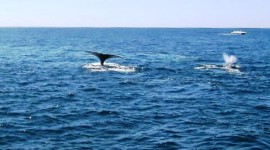 The massive head of a humpback whale appeared right next to us, coming up from underneath the boat. The smaller (but still massive) head of her calf then cleared the surface and the two moved off. Someone shouted. A group of whales was bubble-net feeding in front of us. It was ...
Read More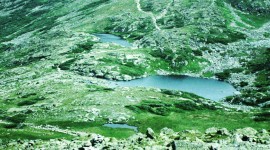 The battered but bright yellow sign is as subtle as a baseball bat to the side of the head. "STOP!" it says (in all caps.) "The area ahead has the worst weather in America. Many have died there from exposure, even in the summer. Turn back now if the weather is ...
Read More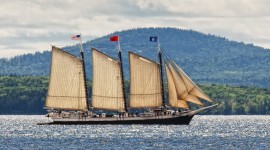 Here's what I noticed when I stepped aboard the Victory Chimes for a week-long cruise on the Maine coast. Almost all the cabins are belowdecks, and they are teeny -- mostly bunkbeds, so we're not really talking romantic cruise here. There's just enough floor space to change clothes. Showers and ...
Read More
New England: Travel Facts
Main International Airport: Boston. Other airports: Bradley (Hartford/Springfield), Manchester-Boston (NH), Burlington (VT), Bangor (ME).
Currency: U.S. dollars.
Population: 14,400,000.
Capitals: Boston, Massachusetts. Hartford, Connecticut. Montpelier, Vermont. Augusta, Maine. Providence, Rhode Island. Concord, New Hampshire.
Climate: Northern temperate. Increasingly long and snowy winters as you go north and/or gain elevation . Temperate summers.
Languages: English. French is spoken in some pockets near the Quebec border.
More facts: U.S. immigration and tourism visas are explained by the U.S. Department of State.
Time zone: Standard time for New England = UTC – 5. See World Clock for seasonal adjustments.