Trips in Illinois, Indiana, Iowa, Kansas, Michigan, Minnesota, Missouri, Nebraska, Ohio, Oklahoma, North Dakota, South Dakota, and Wisconsin .
Click on a red flag to find a trip | See all trips | Travel facts | Back to the United States

The Midwest: The Bucket List
When you step off the ferryboat on Mackinac Island, a wave of aromas competes for your attention. First, the horses. Make no mistake about it, since Mackinac Island, Michigan, is the only place in America that banned automobiles from its community, the horse-drawn wagons are everywhere, and so are the ...
Read More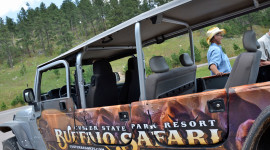 Custer State Park is big - 71,000 acres big. And, it's beautiful which is probably why it became a backdrop for films like "A Man Called Horse" and "Dances With Wolves." Winding roads pass lakes, lodges and lots of animals like bison and pronghorn antelope - which have horns like ...
Read More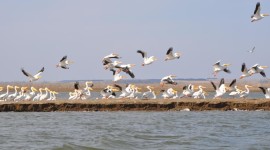 Admit it: You think of Nebraska as a flyover state. Or a drive-through. What if I told you that it was also home to one of the world's greatest wildlife spectacles? No, forget about me. What if Jane Goodall told you that? Because amid the feedlots and the corn fields and ...
Read More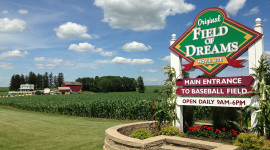 Where I grew up, the saying was the corn should be "knee high by the Fourth of July." It's Independence Day in Dyersville, Iowa, and the corn is over my head. I can't help but walk into the tall stalks, disappearing from sight like a whisper. It's there, and I ...
Read More
The Midwest: Travel Facts
Midwest Facts
Main International Airports: Chicago O'Hare (IL), Chicago Midway (IL), Detroit (MI), Cleveland (OH), Minneapolis (MN). Also: Cincinnati (OH), Columbus (OH), Indianapolis (IN), Milwaukee (WI), Kansas City (MO).
Currency: U.S. dollars.
Population: 65,400,000.
Capitals: Springfield, IL. St. Paul, MN, Jefferson City, MO. Madison, WI. Des Moines, IA. Indianapolis, IN. Columbus, OH. Lansing, MI. Bismark, ND. Pierre, SD, Topeka, KS. Lincoln, NE. Chicago is the region's largest city and the third largest city in the U.S.
Climate: Temperate. Hot humid summers, cold sometimes snowy winters.
Languages: English.
More facts: U.S. immigration and tourism visas are explained by the U.S. Department of State.
Time zone: Standard time for most of the Midwest is UTC – 6. See World Clock for seasonal adjustments (Indiana has some anomalies).