Trips in Colorado, Idaho, Montana, Nevada, Utah, and Wyoming.
Click on a red flag to find a trip | See all trips | Travel facts | Back to the United States

The Mountain West: The Bucket List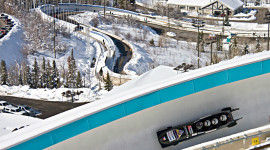 Even for those like me, normally the hardiest of skiers, it's nice to spend a day off the downhill slopes while visiting Park City. I know that time away from the lifts allows me to enjoy other attractions that I cannot find back home. So how about learning a bit about ...
Read More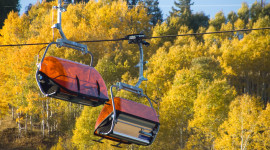 As a New Englander, I'm spoiled for foliage. I have always smugly believed in the superiority of our country roads lined in red maples. Then I saw mile after mile of Utah mountainsides painted in bright yellow aspens; it broadened my view. And it gave me an entirely new perspective on ...
Read More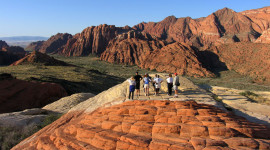 Sipping a Prickly Pear Champagne Cocktail on the patio as the setting sun changes the colors of the surrounding mountains, I wonder why I ever declared myself "NOT a spa person." Oh yeah…it was the thought of self-consciously traipsing through luxurious surroundings in a resort-issued robe and slippers to be purged ...
Read More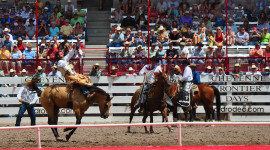 The aroma wafts toward my nose from a block away. The familiar sweet smell mixed with a yeasty scent makes my mouth water, and by the time I walk to Depot Square my mind is on only one thing: pancakes. But the crowd gathered in front of the castle-like 19th-century Union ...
Read More
The Mountain West: Travel Facts
Main International Airports: Denver, Colorado; Salt Lake City, Utah; Las Vegas, Nevada
Currency: U.S. dollars
Population: 14,000,000
Capitals: Denver, Colorado; Salt Lake City, Utah; Cheyenne, Wyoming; Helena, Montana; Boise, Idaho; Carson City, Nevada
Climate: Eastern side of Rockies: high plains. Rockies: mountain climate with arctic conditions on high summits (travelers should be aware of summer mountain thunderstorms; snow can block high passes well into summer.) West of Rockies: Great Basin high; climate varies greatly according to elevation.
Languages: English
More facts: U.S. immigration and tourism visas are explained by the U.S. Department of State.
Time zone: Standard time for most of the Southwest is UTC – 7, with some of northern Idaho being in the Pacific time zone (UTC – 8). See World Clock for seasonal adjustments.