Trips in Connecticut, Maine , Massachusetts, New Hampshire, New Jersey, New York, Pennsylvania, Rhode Island, and Vermont.
Click on a red flag to find a trip | See all trips | Travel facts | Back to the United States

The Northeast: The Bucket List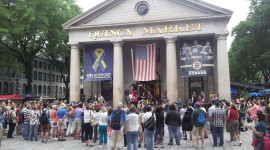 It's a cool, sunlit morning in Boston, one of those picture-perfect days you hope for when exploring a city. I pass the flower-studded site of the Boston Marathon bombing -- a sobering reminder of what happened here earlier this year. Boston is one of my favorite cities and although I've been ...
Read More
A constant drip of water accompanies us as we follow our tour guide into the depths of an old zinc mine in Ogdensburg, New Jersey. It is pouring outside, so the occasional drips on us as we walk down the mine tunnels aren't a big deal. It's a little muddy ...
Read More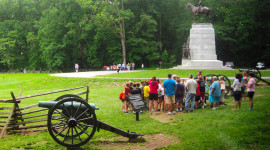 It was raining, of course. It had rained for a week and shown no signs of stopping, but this was our one chance to see Gettysburg while John and I were in this part of Pennsylvania. Our National Park Service tour bus pulled into the parking area for the Eternal ...
Read More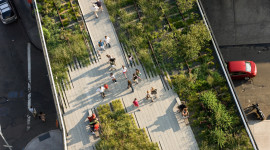 The High Line, one of New York City's most unlikely tourist attractions, has been an overnight sensation that was almost 30 years in the making. Its life began in the 1930s, when a railroad spur serving Manhattan's West Side industrial district was elevated 30 feet above the street to make it ...
Read More
The Northeast: Travel Facts
to come