Trips in Connecticut, Maine , Massachusetts, New Hampshire, New Jersey, New York, Pennsylvania, Rhode Island, and Vermont.
Click on a red flag to find a trip | See all trips | Travel facts | Back to the United States

The Northeast: The Bucket List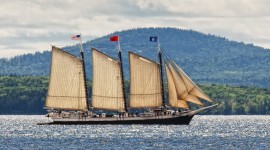 Here's what I noticed when I stepped aboard the Victory Chimes for a week-long cruise on the Maine coast. Almost all the cabins are belowdecks, and they are teeny -- mostly bunkbeds, so we're not really talking romantic cruise here. There's just enough floor space to change clothes. Showers and ...
Read More
The Northeast: Travel Facts
to come